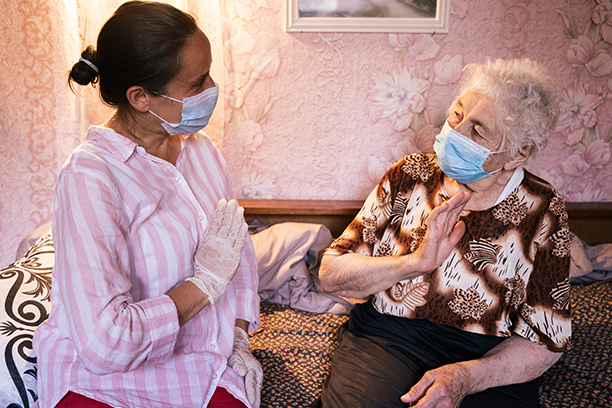 Dementia Care in Barnstable
How To Help When They Say They Want To Go Home
For many dementia sufferers, communicating verbally can become difficult. This results in a common phenomenon where they will say "I want to go home," even when the phrase doesn't make any logical sense. With our professional dementia care in Barnstable and the surrounding area, Visiting Angels® Cape Cod offers the support you need to manage unique situations like these.
Due to their limited verbal communication abilities, this phrase works as a general expression of discomfort. They might be feeling bored or lonely or be experiencing some new source of physical pain. Your job is to keep calm and never engage in any sort of debate. Do not try and remind them that they are at home already, as this will just boost their anxiety and dig you into a deeper hole.
The right move is to be compassionate and listen to what they are attempting to say. To soothe their stress, redirect their attention with a hug or some nice music. Basically, you should remain focused on keeping them calm and letting them know they are in a safe space with people who love them.
Our Professional Dementia Care in Barnstable
Having professional support around the home is necessary for many seniors. For those with dementia, this support can be even more critical. That's because the alternative to our in-home care is usually a move to some type of facility. While this move provides them with consistent care, it also deprives them of the comforts, privacy, and familiarity of home. When dealing with an affliction that attacks their memory, these advantages can make a huge difference.
We provide kind, loving, and attentive assistance from professional caregivers with a passion for improving their life. Your relative will have a safer, easier, and more positive environment to cope with their disorder, and family members can relax and delegate some or all of their care duties. We offer:
Customized support around the house
Enhanced safety and fall prevention
Loving companionship on a daily basis
An amazing respite for caregiving relatives
And much more!
Dementia Care To Help The Whole Family
Providing your relative with a support plan is the most important way to help them manage their disorder. With our flexible assistance, we provide the care your loved one needs to remain at home and enjoy a happier, easier, and safer daily life.
We are thrilled to offer this service throughout:
Barnstable
Cape Cod
Falmouth
Dennis
Hyannis
Yarmouth
Harwich
Chatham
Orleans
And nearby areas
For additional info about our dementia care in Barnstable and the adjacent communities, schedule a care consultation with Visiting Angels Cape Cod today.
Serving Cape Cod, the Islands and the Towns of Wareham & Marion
Visiting Angels CAPE COD, MASSACHUSETTS
915 Route 28
Harwich, MA 02645
Phone: 508-432-9600