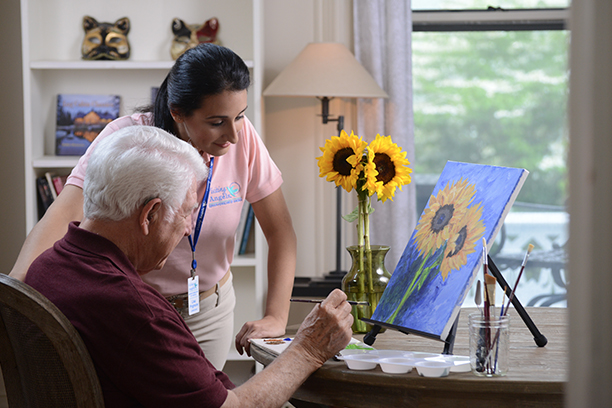 If You Need Elderly Care for a Loved One with Alzheimer's in Cape May, Marmora, Elmer, NJ, or Nearby Area, Contact Visiting Angels Today!
Visiting Angels Provides Alzheimer's Elderly Care in Marmora, Cape May, Elmer, and Cumberland Counties - Including Portions of Salem and Gloucester Counties
Medical science has yet to find a cure for Alzheimer's disease, but it has developed several treatments and therapies that can help slow the progression of this debilitating disease. Doing so can help to improve your loved one's quality of life.
If for any reason you think that your loved one might be showing symptoms of this disease, it is vital that you contact their doctor for an evaluation. If they do have Alzheimer's, the earlier it is diagnosed, the sooner you can get an elderly care plan in place, including a professional caregiver in Marmora, Cape May, or in the surround areas from Visiting Angels.
10 of the Most Common Warning Signs of Alzheimer's Disease
Memory Loss – forgetting vital information like names, addresses, appointments, recent events.

Problem Solving and Planning Issues – this includes things like not being able to follow a familiar recipe, money management, paying the bills.
Familiar Tasks – problems completing daily tasks they are familiar with.
Confusion – losing track of the time, dates, and the seasons is common with Alzheimer's.
Spatial Relationships and Visual Images – difficulties with judging distance, reading, and seeing colors and contrast.
Speaking and Writing – new or increasing difficulty writing or not knowing what words to use in conversation.
Losing Things and Getting Lost – Alzheimer's can cause people to forget where they put things and then blame others for stealing them. It can also make it hard for the person to retrace their steps, causing them to get lost.
Problems with Judgement – diminishing self-care, such as personal hygiene and grooming, and falling prey to money scams.
Mood and Personality – look for depression that seems to be increasing along with heightened anxiety, fearfulness, and suspicion. You may see rapid mood swings that persist.

Withdrawal - they start to withdraw from their daily activities at work or home including their favorite social activities.
Evaluation is Vital
If you should notice your elderly loved one start to display any of these symptoms, having them evaluated and screened for Alzheimer's disease is vital. Keep in mind that general forgetfulness is a part of aging and should not be mistaken for Alzheimer's disease. While each person may exhibit any or all these symptoms in varying degrees when a person has Alzheimer's disease, they will increase over time and become more frequent.
If your loved one is diagnosed by their physician with Alzheimer's disease, you need to be proactive when finding the right elderly care provider and managing the disease early on.
Consider these steps you can take:
Educate – the more time you take to visit sites like the Alzheimer's Association and the Alzheimer's Foundation of America and learn about this disease the better you will be prepared to provide your loved one with the right elderly care.
The Paperwork – this is the time to take care of estate planning, financial and legal issues, and preparing for long-term care. You may also want to discuss any end of life plans your loved one has.
Professional Care – consider bringing in outside help, even if you plan to continue as their primary caregiver. Professional respite and regular elderly care are an excellent way to make sure you get a break. Look for a service that can show they have Dementia Care Professionals of America training or they have experience in working with those who have dementia. Visiting Angels of Cape May provides our staff with this training to ensure we can always provide compassionate elderly care.
Support System – as a family caregiver, you are going to need all the support you can get. Be sure you indulge in plenty of self-care, find support groups (you can find them at local hospitals and Departments on Aging or you can visit Caring.com for more information and help. If you visit the Copper Ridge Institute online, they will send you a free informational DVD or you can watch a webcast on their website.
Contact Visiting Angels of Cape May
For more information about the many elderly care services Visiting Angels of Cape May offers for those with Alzheimer's disease and their families, contact us today at 609-604-8176 and schedule your free in-home consultation in Marmora, Cape May, and the surrounding areas.
Serving Cape May & Cumberland Counties Including Areas of Gloucester and Salem Counties
Visiting Angels
CAPE MAY, NJ
110 Roosevelt Blvd #109
Marmora, NJ 08223
Phone: 609-545-8258
Fax: 609-840-6291