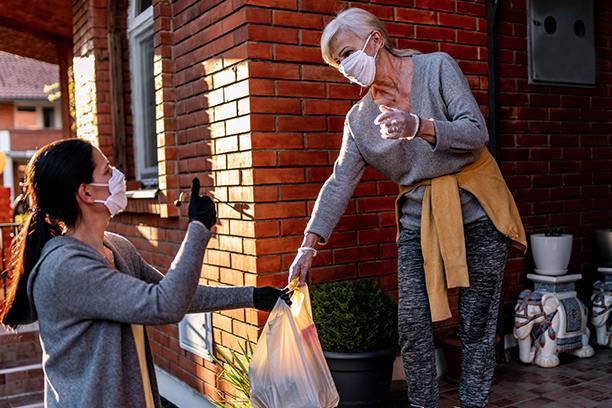 Long-Distance Home Health Care Services in Greater Marmora, Cape May, and Elmer, NJ
Visiting Angels Offers Long-Distance Home Health Care Services to Seniors Living in Marmora, Cape May, Elmer, and Cumberland Counties - Including Portions of Salem and Gloucester Counties
For many seniors, aging in place is an easy decision. Remaining in their home can give seniors more comfort and familiarity, and it may be easier for them to maintain social connections with friends, family, and neighbors. For family members who live far away, making sure that a loved one who lives alone can be a more challenging task. Visiting Angels of Cape May offers direct assistance to your loved one, direct communication with you, and peace of mind for the whole family.
What Does Long-Distance Care Entail?
Home health care services from Visiting Angels of Cape May provide for any daily need your loved one might have. Your loved one will partner with a dedicated home care provider and create a care plan as unique as they are. That caregiver can provide a daily wellness check, assist with tasks and activities, and check in with you regularly.
Long distance caregiving from family members is an important part of the support your loved one has. There is no replacement for the attention and affection of family members, no matter how far away they are! With companionship care and other home health care services, a caregiver can give your loved one the same compassionate, one-on-one help you'd provide if you could.
Long-Distance Care Plans
Every elder care plan we create is customized for the needs of your loved one and your family. That means you're always in control of the schedule and budget of care. It also means we will work to find ways to incorporate you into the caregiving process, such as:
Requesting your input with the care plan creation, and having you call or video chat with us during your loved one's initial consultation.
Setting up a phone interview for you with your loved one's recommended caregiver, so you can be sure they're a good match.
Updates on your loved one's care via phone, email, or text, so that you're always in-the-know on your loved one's health and well-being.
Long distance caregiving is hard, but with home health care services you have a partner in companion care. We offer around-the-clock care plans, and a 24/7 hotline in cases of emergency. No matter how far away you are or what time an emergency takes place, Visiting Angels of Cape May is ready to help.
Learn More
If you are concerned about the well-being of a loved one who lives alone, Visiting Angels of Cape May offers the home health care services that can ensure their quality of life. Call our agency today at 609-604-8176 to learn more or you can fill out our intake form here.
Serving Cape May & Cumberland Counties Including Areas of Gloucester and Salem Counties
Visiting Angels
CAPE MAY, NEW JERSEY
110 Roosevelt Blvd #109
Marmora, NJ 08223
Phone: (609) 604-8176
Fax: 609-840-6291