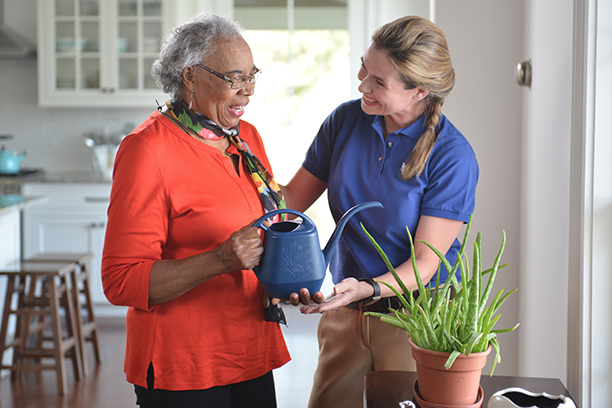 Providing Quality Memory Care for Seniors with Alzheimer's in Carlisle, PA and Surrounding Areas
Here's how quality memory care from Visiting Angels can help seniors who are living with Alzheimer's disease in Carlisle, Gettysburg and Chambersburg, PA
Nowadays, more than 5 million Americans are struggling with Alzheimer's, a disease that causes a decline in memory as well as thinking and reasoning skills. Although learning that your loved one has been diagnosed with this condition can be overwhelming, there are some strategies that will help you cope with the situation and find the best solution for you and your family member. For instance, in-home memory care from Visiting Angels Carlisle can slow the worsening of symptoms and improve the quality of life. If you believe that your parent has Alzheimer's, taking them to see their physician as soon as possible is in your and their best interest.
Warning Signs of Alzheimer's
If you are worried that your loved one might have Alzheimer's, pay attention to the most common signs of the disease, such as memory loss, challenges in planning or solving problems as well as difficulty completing familiar tasks. Also, if your loved one often loses track of dates, has trouble reading or judging the distance or often cannot find the appropriate words, you should contact their doctor and have them tested for Alzheimer's. Seniors with this disease are prone to misplacing things, have poor judgment and tend to withdraw from social activities. In case your loved one has been experiencing frequent mood swings, and is anxious or suspicious about everything, taking them to see their physician might be your good idea.
Although seniors often do not show any symptoms of the disease at first, as it progresses, they gradually increase and become more persistent.
Memory Care Options in Carlisle and Surrounding Communities
If your loved one gets diagnosed with Alzheimer's, the sooner you make decisions about Alzheimer's care, the more you will be able to manage the disease. Make sure to educate yourself about the disease so you can be prepared for everything that will happen. Taking care of financial and legal issues on time can also help you avoid unpleasant situations. Even if you wish to be your loved one's primary caregiver, keep in mind that as the disease progresses you will need help.
Hiring memory care professionals from Visiting Angels Carlisle can help you get the much-deserved rest while your parent receives high-quality care they need. Keep in mind that being a caregiver for someone with Alzheimer's can be exhausting, both physically and emotionally. Therefore, find a group of people you can reach out for help when needed, so you can maintain your mental health.
If your loved one has been diagnosed with Alzheimer's, contact Visiting Angels today and learn about Alzheimer's care services we offer in Carlisle, Gettysburg and Chambersburg, PA.
Serving Carlisle, Gettysburg, Chambersburg and Surrounding Areas in Cumberland, Franklin and Adams Counties in PA
Visiting Angels Carlisle, PA
325 S Hanover St #2A
Carlisle, PA 17013
Phone: 717-356-9871