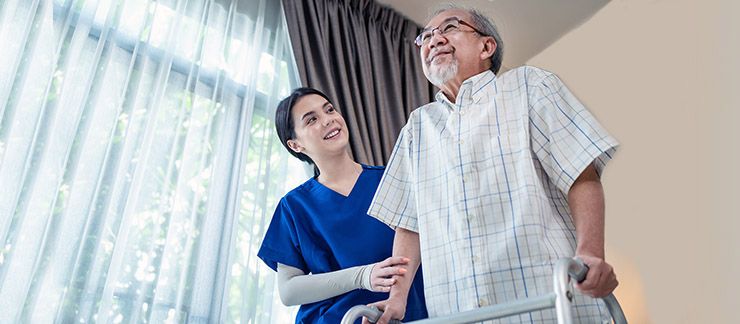 Fear of Falling in the Elderly
When an elderly loved one experiences a devastating fall, the emotional toll can be as traumatic as the physical effect. The paralyzing dread of falling again may remain long after their cuts, scrapes, and wounds have healed. The intense fear can cause angst and distress, threaten their independence, and induce bouts of depression.
Visiting Angels' compassionate home care for the elderly helps alleviate trepidation in seniors through a Safe and Steady Fall Prevention Program, which reduces the risk of accidents in the home.
Why Does Fear of Falling Occur in the Elderly?
Even a minor accident can trigger psychological strain for the elderly. Falls that cause injury and require hospitalization can be more distressing.
Research shows that seniors who fall once double their risk of falling again. The thought of a repeat accident may cause unrealistic anxiety and prevent them from engaging in normal activities and reaching their full recovery.
What are the Signs and Risks of Fear of Falling?
If your senior avoids activities or has trouble completing tasks after a fall without a medical explanation, they may have chronic fear. Signs to monitor include:
Staying home and not going outdoors
Reduced activity levels
Withdrawal from social activities
Mood, behavior, or functional changes
When these signs are present, their self-isolation and loss of independence can lead to severe depression. A self-imposed sedentary lifestyle also increases the risk of another fall due to:
Joint pain and stiffness
Bone loss
Muscle weakness
Loss of coordination
Weight gain
A sedentary lifestyle can also lead to an overall decline in health by placing the elderly at higher risk of diabetes, heart disease, stroke, and arthritis, which can.
How Can You Help a Senior Who Has a Fear of Falling?
The first step toward helping a senior overcome a fear of falling involves recognizing the problem. Encourage your senior to comfortably discuss their concerns and apprehensions.
Other steps you can take include:
Rule out medical issues
Take your senior for a medical check-up to ensure if any medical issues — such as dementia, pain, poor eyesight, or balance problems — are causing them to avoid everyday activities.
Restore confidence
Help your loved one get past their fear by restoring their confidence. Consider escorting them to a physical therapy session or a trip to the grocery store with their new walker or cane. Your companionship and positive support may be what they need to get back to their normal routines.
Hire an in-home personal caregiver
When you can't be there to assist your loved one, a senior care professional can offer at-home support and peace of mind. Professional caregivers provide physical assistance with bathing, toileting, navigating the stairs, and getting into and out of chairs or bed. They also can help with household tasks such as meal prep, light housekeeping, and laundry.
Create a fall prevention plan
Visiting Angels' caregivers will work with you to develop a fall-prevention plan for an aging parent to reduce the risk of future accidents. Caregivers have access to training that helps them assess internal fall risks, such as poor eyesight, medications, nutrition, muscle weakness, and history of falls as well as external hazards, such as clutter, poor lighting, and other threats around the home. Additionally, care coordinators will perform a free home assessment to identify fall risks and recommend safety improvements.
With your support — and guidance from a professional personal caregiver — your loved one can recover from the physical and emotional injuries they sustained from a fall. To learn more about how a professional caregiver can help, contact a Visiting Angels' local home care office to schedule a free home care consultation today.