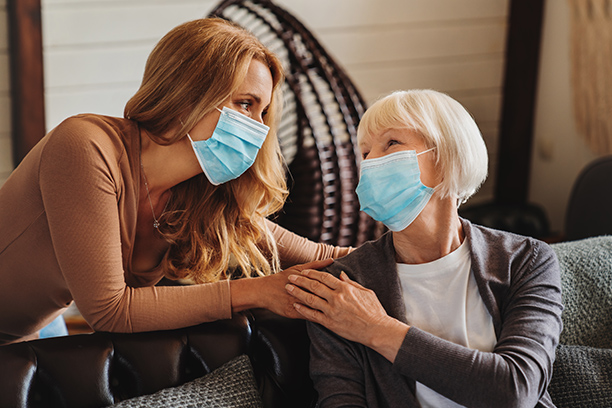 Benefits of Being a Personal Care Assistant with Visiting Angels Central Coast
Visiting Angels has a team of dedicated personal care assistants that provide top-quality home care throughout Santa Cruz, Scotts Valley, Marina and surrounding areas in Santa Cruz and Monterey Counties in California. Here's why it's so great to be part of the Visiting Angels Central Coast team.
As a leading provider of home care in Santa Cruz and Monterey Counties, Visiting Angels Central Coast is always looking for professional, dedicated and compassionate caregivers who will join our growing company and become a part of our Visiting Angels family. We understand that these days an accomplished in-home caregiver has many options when it comes to employers, so why choose us?
We have been providing high-quality essential personal home care services throughout Santa Cruz, Scotts Valley, Marina, Aptos, Capitola and surrounding communities in Santa Cruz and Monterey Counties in California for many years and we value our caregivers as much as we value our clients. Here at Visiting Angels Central Coast, we understand that only personal care assistants who have received the recognition and compensation they deserve are those who will provide our senior clients with the care they need.
The Visiting Angels Difference
1. Flexible Scheduling
Whether you want to work a few hours or eight hours a day, in the mornings or in the evenings, we can make a schedule that will work for you. With Visiting Angels Central Coast, not only will you be able to work close to your home, but you will also get the hours you want. Since our care plans cover part-time, full-time, overnights and around-the-clock shifts, you can create a schedule that fits your availability.
"I am very grateful to be a part of this Visiting Angels team. As a place for employment, it is a very professional environment. As caregivers for example, we are equipped with necessary training, PPE for safety measures as we deal with COVID. You can be assured they work around the clock to support hands-on care with compassion."
- Georgeann G.
2. Supportive Management
We understand that every personal care assistant makes a huge difference in our clients' lives. Therefore, we always make sure that our caregivers are ready and well-prepared before they step into a senior's home. At Visiting Angels Central Coast, you will receive the support, education, motivation and training you need in order to reach your full potential. We value the skills, time and needs of our caregivers and provide them with continuing education and training opportunities.
3. Competitive Wages
We recognize that in order to stay motivated, every caregiver needs to be valued and recognized for the work they do. Aside from rewarding our caregivers for doing an amazing job, we are also proud to offer competitive wages. We will always acknowledge and appreciate your efforts and, as your skillset grows, we will support your advancement in our agency.
Become a Caregiver Today!
Visiting Angels Central Coast was voted as a 2021 Home Care Pulse Employer of Choice and if you want to join our award-winning team and become a Visiting Angels personal care assistant, don't hesitate to contact us today.
Applying is easy; simply go to our Careers Page or give our Scotts Valley or Marina office a call. We look forward to hearing from you!
Serving Scotts Valley, Watsonville, Marina, Carmel, Santa Cruz, Aptos, Salinas, and throughout Santa Cruz and Monterey Counties in California
Visiting Angels CENTRAL COAST IN CALIFORNIA
5274 Scotts Valley Dr #102
Scotts Valley, CA 95066
Phone: 831-703-8974
HCO #444700002