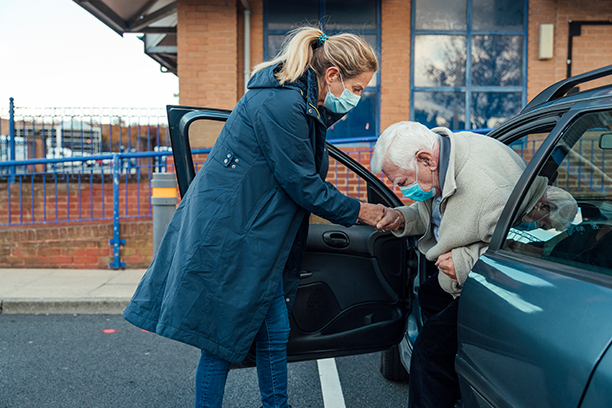 Respite Care for Older Adults in Santa Cruz, CA
The Benefits of Respite Care for Seniors in Santa Cruz, CA
Sometimes being a caregiver can seem overwhelming and a short hiatus is needed. That's where respite care from Visiting Angels Central Coast comes into place, providing temporary care so you can have some time for yourself.
It is beneficial to let your loved one interact with someone else in the comfort of his or her home. Our professional caregivers can take care of anything you would normally do to help your loved one.
Give Yourself A Break
Taking care of a loved one can be draining, and you need some time away at one point. In fact, caregiving can be so burdensome that family caregivers often experience depression. A small minority even see their health decline
Putting the caregiving duties on pause could actually prove to be better for your loved one because once you are feeling refreshed you will be able to spend more energy on meeting his or her needs. It's common to be exhausted and frustrated because of caregiving and respite care affords you the opportunity to revitalize yourself.
With respite care from Visiting Angels Central Coast, you will be able to perform daily activities without having a feeling of guilt that you aren't there for your loved one. You can put your mind at ease knowing that our professional caregivers in the Santa Cruz, CA area are available to step in and take great care of your loved one.
When is Care Available?
Care is available every day of the year, including holidays. At Visiting Angels Central Coast, we work around your loved one's schedule, not the other way around. After our free in-home visit where we learn about your loved one's needs, we create their own customized care plan. That way, your loved one will receive the support they truly need when they need it most.
How Often Should Your Loved One Receive Care?
Your loved ones plan is based on how much care they need and if more care is required, we can add more hours to your plan. As your loved one gets older, it's only fair to assume more care will be involved than before.
What Is The Cost of Care?
The costs vary based on the needs of your loved one and how often they are receiving care. With personalized care plans, you're only paying for the services that are actually needed, making Visiting Angels Central Coast an affordable and reliable option for many families in the Santa Cruz area.
To schedule a free in-home evaluation, contact our Scotts Valley, CA office today.
.
Serving Scotts Valley, Watsonville, Marina, Carmel, Santa Cruz, Aptos, Salinas, and throughout Santa Cruz and Monterey Counties in California
Visiting Angels CENTRAL COAST IN CALIFORNIA
5274 Scotts Valley Dr #102
Scotts Valley, CA 95066
Phone: 831-703-8974
HCO #444700002