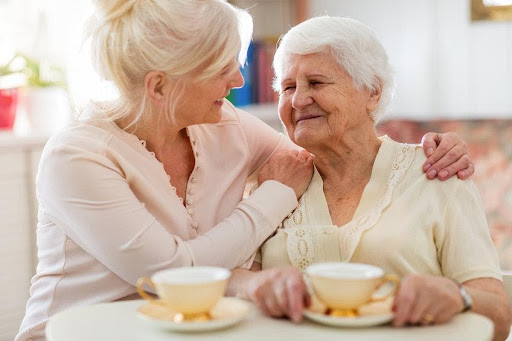 How to support the caregiver in your family
When someone is going through a challenging time, it can be challenging to know how to support them aside from the simple act of being there. Family caregivers can be experiencing a myriad of emotions that leave them feeling exhausted and overwhelmed, resulting in caregiver stress symptoms. Family caregivers who have reached this level of exhaustion have likely forgotten their own mental and physical needs to commit to handling onerous duties for another, and they are doing it around the clock. This self-neglect can have unpleasant consequences.
There are plenty of ways to lend a hand or offer to help a family caregiver in your life. Before you reach out, consider the best way to approach this person. Caregiver stress may be mixed with worry or fear over the declining health of a loved one, and it is a sensitive time with heightened emotions. Caregivers need just as much compassion as they provide, and there are several ways to help lift them up.
Listen
It's easy to question someone else's situation and ponder why they aren't doing things the way you'd do them. It's important to remember that you will never know the gravity of someone else's situation or the weight of their emotions. Try offering a non-judgmental space for the caregiver to get some things off their chest before offering any advice. If the caregiver asks you for your opinion, it's more than welcome. But if they have not, they may take offense at your words. Unsolicited advice can often feel intrusive or critical, and caregivers are trying their best in their situation. Always offer to be present and listen, but keep your advice filed away until it's requested.
Some caregivers may ignore their feelings or be too stressed out to discuss them, and they may pass it off as saying everything is okay. It is easy to tell when a close friend or family member is more down than usual, so pay attention to body language as well. Even if they aren't ready to open up yet, remind them that you know caregiving is a difficult task, and you are there to listen if they ever want to talk.
Fill their shoes
Family caregivers often work around the clock to juggle care, jobs, and families, so there are guaranteed to be conflicting schedules. In moments like this, hands-on help can be the greatest gift. If a caregiver turns to you for help, they trust you with their loved one. Be sure to get specific directions for how the caregiver wishes this task to go. The caregiver will be comforted that they had a moment of reprise while knowing the care receiver is still familiar and comfortable with what's going on. Caregiving can be gratifying, and this act will let you know you've made a difference while giving you a deeper understanding of the caregiver's regular situation.
If you are not ready to provide hands-on care, try to pick up on other tasks that may be time-consuming for the caregiver. Caregivers tend to miss time for themselves more than anything as they have dedicated most of their personal time to others. Picking up groceries, running errands, or just sitting with their loved one may allow the caregiver some much-needed time to themselves. Even if they are just reading a book, cleaning their house, or getting some rest, this time will be invaluable to them with the comfort of knowing they can count on you.
Family caregivers might not always have the helping hands they always need. For those critical moments, respite care can offer the necessary help caregivers need. Visiting Angels Chadds Ford offers respite care to Central and Southern Delaware County and Southern Chester County. Throughout respite care, the family caregiver continues to care for their loved one with the assistance of a home health caregiver whenever they need a break. Respite care can help caregivers avoid burnout without having to give up their role in their loved one's care. These care services are often short-term or temporary and allow caregivers room to run errands, take care of themselves, or go on vacation. Reach out to discuss how a Visiting Angels caregiver can add to your quality of life at (484) 770-8479.