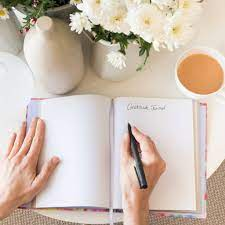 Journaling for Seniors
Journaling is a great way to de-stress and let pent-up emotions out. This is a soothing hobby for all ages, but especially beneficial for seniors. Seniors can benefit from writing down important events, routines, or something as simple as a grocery list. Seniors can also benefit from keeping a journal by reminiscing about their past. Journals can also be used as keepsakes for seniors' families, which can help them better bond with their loved ones. We will discuss how journaling can be very beneficial for seniors, as well as some tools to help seniors start writing.
Keeps the Mind Active
With age, the mind can become dull, which is why it is so important to stimulate it with activities such as journaling. Journaling stimulates the mind in several ways. Seniors can record what they do throughout the day. This forces seniors to remember what they did during the day, stimulating their brains.
There is no set definition of journaling, so anyone can write about anything they wish. For example, seniors can write down fun facts they've learned over the years to keep their minds active. A senior can add a new fun fact to this memory game every day. It will provide the senior with entertainment and keep their minds active at the same time.
Strengthens Communication Skills
Even though journaling does not involve talking, it can improve a senior's communication skills. Journaling, for instance, allows you to organize your thoughts and feelings before a conversation. A senior can express their feelings and emotions on paper before explaining them to a real person.
Suppose a senior is going to have to speak to an old friend, and they're nervous about the topics to talk about. Prior to the discussion, the senior can provide a foundation for the discussion on paper. As a result, the senior will feel less anxious or unprepared during the exchange.
Slows Down Memory Loss
Maintain a healthy brain by journaling. Journaling enhances memory and comprehension, as well as cognitive function. Writing in a journal allows seniors to express themselves and stay on top of their daily routine.
Allows for Alone Time
We can all benefit from some alone time. Journaling allows for time to collect thoughts, express your feelings and creativity all while stimulating the brain.
Here are some great tools to help a senior get started journaling:
A good writing journal
A good writing pen
A ruler (for those Type-A personalities)
Whiteout (in case of mistakes)
There are many ways in which seniors can benefit from journaling. The reasons for journaling depend on the individual and their interests. Caregivers at Visiting Angels Chadds Ford enjoy supporting the hobbies and interests of the seniors in their care, including journaling. We strive to make each day enjoyable for the seniors we care for. Call us at 484-770-8479 for a complimentary care assessment. We proudly serve seniors and their families in Central & Southern Delaware County, and Southern Chester County, PA.