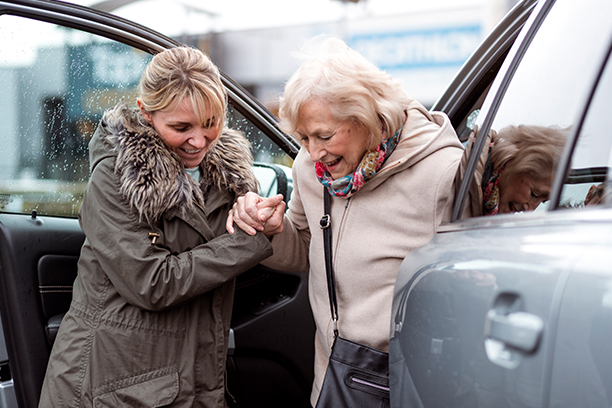 Caregivers Chester, PA
Do you have a senior loved one in your life that wants to age at home? The familiar environment, full of cherished memories, can be a great comfort to older adults. Still, you might notice their increasing need for support and wonder if staying at home is even possible.

While your first instinct may be to look after them yourself, this can become overwhelming when taking it on alone. By partnering with the compassionate caregivers at Visiting Angels, your loved one can receive experienced, reliable assistance, relieving you of the caregiving duties.

At Visiting Angels, our caregivers in Chester, PA offer various non-medical senior care services for those aging in place. A professional caregiver can provide your family member with the assistance they need, whether it's help with daily activities, companionship, assistance using technology, or specialized care for certain conditions.

Schedule your free consultation with Visiting Angels today to help your elderly loved one age at home safely.

Our Approach to Personalized Home Care at Visiting Angels
Our aim is to match you with a caregiver who feels like an extension of the family. The only way to do that is by approaching each client as a unique individual, taking their personality into account just as much as the services they require.

Each of our senior care plans is fully customized and flexible. Seniors often need help with different things as time goes on, and your home care plan can easily change to keep up. We will continue to work closely with you and your family to understand evolving needs, concerns, and expectations.
Our Home Care Services
At Visiting Angels, our compassionate, professional caregivers in Chester, PA are well-equipped to make life easier and more enjoyable for your loved ones. Here's a closer look at our extensive range of home care services.
Companion Care

Our companion care combats loneliness and isolation by providing your loved one with a friendly and reliable companion. Whether it's sharing a meal, engaging in meaningful conversations, or partaking in a favorite hobby, our caregivers are there to provide joyful activities and emotional support.
Personal Care

Our personal care services support seniors with daily living activities like bathing, dressing, grooming, and meal preparation. Our caregivers in Chester, PA are trained to assist seniors with quality care while respecting each individual's dignity and privacy.
Palliative Care

When it comes to palliative care, our focus is on improving the quality of life for patients and their families. We aim to alleviate pain and discomfort by addressing physical, psychological, and spiritual needs regardless of life expectancy.
Social Care

Our social care program helps elders stay connected to the world around them. We offer assistance with modern technology so aging adults can text, email, make video calls, and use social media. This ensures they can stay in touch with family and friends, explore topics of interest, and even shop online.
Alzheimer's & Dementia Care

If your loved one is facing Alzheimer's disease and other forms of dementia, we're here to help. Our specialized Alzheimer's & dementia care maximizes comfort, manages symptoms, promotes cognitive function, and maintains a safe environment for your loved one in their own home.
End-of-Life Care

Professional end-of-life care services can help provide much-needed support to seniors and their families during this difficult time. Our compassionate and dedicated caregivers are trained to keep your loved one comfortable while easing the emotional and physical burden on your family.
Fall Prevention Program

Falls can significantly impact a senior's quality of life. That's why our comprehensive fall prevention program is two-fold. It offers mobility assistance for seniors as they go about their daily routines as well as recommending home modifications that would remove existing risks that could cause a fall.
Respite Care

Every caregiver needs a break, even family caregivers. Our respite care service provides temporary relief for primary caregivers, allowing them to rest or attend to personal matters, knowing their loved ones are continuing to receive quality care.
Recovery Care

After a hospital stay or surgical procedure, your loved one may need additional help at home. Our recovery care services ensure a smooth transition from hospital to home, providing assistance during the recovery period.
24-Hour Care

For those requiring constant attention, our 24-hour care services provide round-the-clock supervision and assistance. You can make sure your loved one's needs are met at all times without having to make the transition to a nursing home
Live-In Care

Our live-in care option offers a permanent solution for families seeking full-time support. A dedicated caregiver resides in the home, providing constant care and companionship for your loved one, enhancing their comfort and safety.
Why Choose Visiting Angels
Choosing Visiting Angels means opting for quality, compassion, and a genuine commitment to improving the lives of our clients. Our reputation as one of the leading home care agencies is built on our dedication to personalized care, our team of professional caregivers, and our flexibility to meet your changing needs.

By choosing the personalized senior care services from Visiting Angels, seniors can enjoy professional, tailored care that respects their preferences, all in the comfort of their own homes.

Areas We Serve
From the heart of Chester, PA, to the surrounding regions, here are the areas we currently help seniors live independently.
The Caregivers at Visiting Angels Are Ready to Serve You

Our caregivers are the heart of Visiting Angels. Handpicked for their compassion, professionalism, and dedication, they're ready to make a difference in your loved one's life.

Each caregiver in Chester, PA is thoroughly vetted, ensuring your family's safety and peace of mind. Their training equips them to provide the highest standard of care, whether they're assisting with daily tasks, providing companionship, or offering specialized care for Alzheimer's and dementia.
At Visiting Angels, we match your loved one with a caregiver who understands their needs, respects their preferences, and enhances their life with warmth and understanding.
Contact us today for a free care consultation.
Serving Central & Southern Delaware County and Southern Chester County PA
Visiting Angels
CHADDS FORD, PA
1204 Baltimore Pike #301
Chadds Ford, PA 19317
Phone: 484-770-8479