8 important facts about Alzheimer's
September is
World Alzheimer's Month
. The awareness campaign was started by
Alzheimer's Disease International
(ADI) in 2012 as an annual opportunity to share knowledge about the disease and its impact.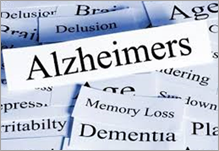 The
Alzheimer's Association
notes that one in ten Americans aged 65 and over has the disease; the bulk of Alzheimer's sufferers (nearly two-thirds) are women. Alzheimer's disease can look very different for different people. The disease tends to progress slowly, extending through three stages. The
association
explains: "On average, a person with Alzheimer's lives four to eight years after diagnosis, but can live as long as 20 years, depending on other factors."
Below are basics facts and information about Alzheimer's disease.
Alzheimer's disease is one form of dementia, which is an umbrella term describing disorders that impair brain function. Most suffers start to experience symptoms in their 60s; those may include disruptive memory loss, confusion about details that were once familiar, like time and place, and difficulty completing routine tasks.
Alzheimer's is the most common form of dementia; some other types include vascular dementia and Parkinson's Disease.
Alzheimer's is common; in fact, 5 million Americans have Alzheimer's Disease. Every 65 seconds an individual develops a new case. According to the Fisher Center for Alzheimer's Research, experts predict that the number of Americans living with the disease stands to triple by 2050.
Hereditary Alzheimer's Disease is rare; according to the Mayo Clinic, only about 1 percent of cases are the hereditary variety of the disease. Those tend to be the early onset type that manifests during middle age. For the more common types of the disease, the Mayo Clinic notes: "Scientists believe that for most people, Alzheimer's disease is caused by a combination of genetic, lifestyle and environmental factors that affect the brain over time."
Those struggling with the disease may experience differences in their moods: depression, irritability, aggressiveness, apathy and mood swings can be common in Alzheimer's sufferers.
Sufferers may also behave differently, according to the Mayo Clinic; difficulty sleeping, wandering, withdrawing socially and feeling distrustful of other are some new behaviors that those with Alzheimer's Disease may exhibit.
Though some skills may diminish, others tend to remain intact. These preserved skills tend to be impacted in the latest stages of the disease. The Mayo Clinic reports: "Many important skills are preserved for longer periods even while symptoms worsen. Preserved skills may include reading or listening to books, telling stories and reminiscing, singing, listening to music, dancing, drawing, or doing crafts."
Lifestyle choices may impact one's likelihood of contracting the most common type of Alzheimer's disease. The Alzheimer's Association reports: "Though research is still evolving, evidence is strong that people can reduce their risk by making key lifestyle changes, including participating in regular activity and maintaining good heart health…Several conditions known to increase the risk of cardiovascular disease — such as high blood pressure, diabetes and high cholesterol — also increase the risk of developing Alzheimer's. Some autopsy studies show that as many as 80 percent of individuals with Alzheimer's disease also have cardiovascular disease."
Getting a basic understanding about Alzheimer's disease can help generate awareness and compassion for those who suffer. Embrace September as your annual opportunity to learn more.