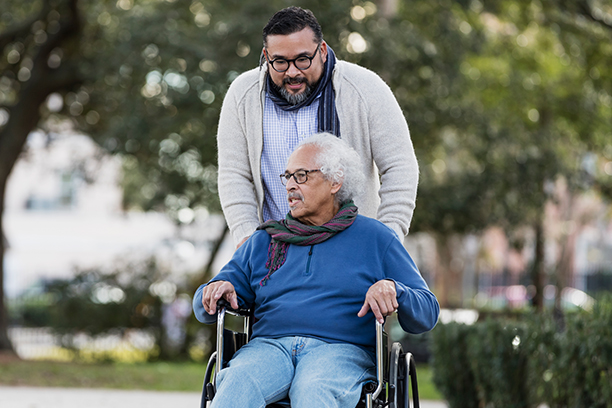 Elderly Care Services: Alzheimer's Care from Visiting Angels of Chapel Hill, NC
Alzheimer's Warning Signs and How Elderly Care Services Help Seniors in Chapel Hill, Durham, and Surrounding Areas
Proactivity is integral in managing Alzheimer's, which the National Institute on Aging calls an "irreversible, progressive brain disorder that slowly destroys memory and thinking skills." The sooner you get them in front of a physician, the sooner you can help them find elderly care services
Below are the 10 Warning Signs of Alzheimer's to watch out for:
Memory loss that disrupts daily life: Common signs include not remembering recent events, names, where things go, and other new information.

Challenges in planning or solving problems: If your loved one has difficulties concentrating or takes much longer doing tasks that used to be easy, you should take it seriously.

Difficulties completing familiar tasks at work or at home.

Confusion about time and place: People with Alzheimer's can often lose track of dates, seasons, and the passage of time.

Trouble understanding visual images and spatial relationships: Take note if your loved one has difficulties reading, judging distance, and determining color or contrast.

New problems with words in speaking or writing: Seniors may have trouble providing the appropriate words, completing sentences, and following directions and conversations.

Misplacing things and losing the ability to retrace steps: Your loved one may put things in unusual places or accuse others of stealing.

Decreased or poor judgment when making decisions: This may lead to issues with monetary scams or less attention to grooming and hygiene.

Withdrawal from work or other normal activities.

Changes in mood or personality: Common signs include increased depression, fearfulness, anxiety or suspicion, rapid and persistent mood swings, withdrawal and disinterest in normal activities.
Has your loved one been recently diagnosed with Alzheimer's? Below are some ways that you help them transition into this new stage of life.
Educate yourself about the disease.

The Alzheimer's Association

and the

Alzheimer's Foundation of America

are great, informative resources online.

Discuss financial, legal and long-term care planning issues.

Encourage cognitive stimulation (listening to music, word puzzles, memory games, etc.)

Arrange respite and/or regular professional in home care or elderly care services

Build a support system. Resources like the

Caregiver Action Network

and

Caring.com

can help you find support groups in your area.
If you'd like to explore options for elderly care services, call Visiting Angels of Chapel Hill, NC to learn more.
Serving Orange, Durham, Chatham and Alamance Counties
Visiting Angels
CHAPEL HILL, NC
104 Jones Ferry Rd #A
Carrboro, NC 27510
Phone: 919-968-3724