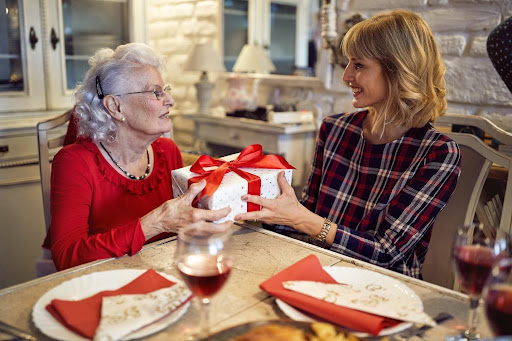 Four holiday activities the whole family will love
This holiday season, celebrate the gift of your family with quality time together. You may already be planning a visit, but simple holiday activities are some of the small moments that build lasting bonds and lifelong memories. Luckily, you can do plenty of things as a family to bring cheer to all, old and small.
Decorating desserts
The holidays are akin to cherished family recipes and holiday-specific treats that we indulge in each year. Some of our aging loved ones were once avid cooks and bakers, but as we grow old, it can be more challenging to complete a recipe on our own. However, our family elders usually hold the family secrets and the expertise of these dishes from years and years of crafting them. Asking your loved one for guidance and letting the kids lend a hand will result in a delicious ending and a fun time for everyone involved.
Though baking may be a little more challenging for aging adults, decorating is a fun activity to express creativity and involve the whole family. Whether it be sugar cookies or a cake, some colorful frosting and glittering sprinkles will bring cheer to every bite. Set up a station for everyone to work together. Sharing these cookies inside and outside of the family will be a constant reminder of the time you spent making them memorable.
Attend a holiday music event
The holidays are a spectacular time for music, with holiday shows and sing-a-longs popping up in all kinds of venues throughout the season. Take a family outing to a performance of a local orchestra's holiday rendition or to a church or spiritual gathering place to see the choir sing. Live music has a much more powerful effect at touching the heart and soul than listening to a recording, and it's best enjoyed among the company of the people you love.
Music increases dopamine—the happy hormone—in the brain while suppressing symptoms of depression or winter-time blues for everyone. As we develop memories throughout life, music latches on to certain points in time as our brains synchronize the moment with the melodies. For seniors, this can be an extra-special event. Aging loved ones who struggle with memory issues or disease respond to music in even the latest stages of Alzheimer's Disease. Music has the power to bring back memories, slow age-related cognitive decline and improve cognitive processing speed for our beloved seniors. A holiday concert this year may bring them back to the warmth and comfort of lifelong family gatherings.
Try the local theatre
Whether it be local theatre or Broadway, many holiday shows are time-honored traditions that are popular for all ages. A rendition of the Nutcracker Ballet or A Christmas Carol are two common holiday performances, but you may have several options open to you in your area. Sometimes a spiritual gathering place may converge to perform ancient holy stories that are pillars of the religion. An outing with the whole family to a large production is something you're sure never to forget.
While you're out and about, at either a music or theatre performance, take a slow drive by the holiday decorations and marvel at the décor. Strings of glowing lights and tinsel illuminate the longer nights of the winter season, and it's a fun way to extend a family's special night out. Plus, psychologists say that holiday decorations are scientifically proven to increase happiness!
Find a way to give back
The holiday season is about giving and giving is often more rewarding than receiving. There may be a local charitable organization by you that has a special place in your heart, and now is the time to make a difference in their lives. Decide on a cause as a family and make it an ongoing holiday goal throughout the season. Perhaps you collect cans for a local food drive or bake homemade dog treats for the local animal shelter. Your family will swell with pride when you have completed this task, and it's a good lesson for the elders of the family to demonstrate for the young ones.
Taking an outing with the whole family can be worrisome as it is exciting, depending on factors of weather or your senior loved one's capabilities. Visiting Angels Chelmsford offers comprehensive home care in Billerica, Burlington, Chelmsford, Dracut, Lowell, Tewksbury, Wilmington, Winchester, Woburn, and the surrounding areas to tend to your loved one's unique needs. Our caregivers can assist in transportation for your loved one or preparing their home for a family gathering. Our caregivers will even manage daily tasks to take the stress off you this holiday season, including errands like grocery shopping, medication reminders and help with dressing and bathing to keep your loved ones at their holiday best. Reach out today to learn about the ways a Visiting Angels caregiver will bring joy and comfort to your family this holiday season at (978) 244-0200.