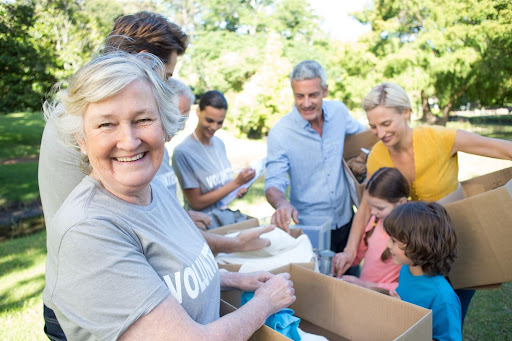 Giving Back to Your Community - Volunteering for Seniors
Many seniors find themselves in retirement but still looking for ways to give back to their community. Even those who need a little support can still help others in ways that give the essential gift of hope and love. At Visiting Angels of Chelmsford, our Angels can support your independent loved one by helping them get out the house regularly and giving their talents to those around them. Call us at (978) 244-0200 to find out more about our home care services for your elderly loved one.
There are many opportunities for seniors to donate their time in the Chelmsford area.
Table of Plenty
Table of Plenty in Chelmsford is a non-profit organization in Chelmsford, consisting of volunteers who desire to share community with those in need. The organization provides weekly meals for those needing nourishment or social interaction and supporting all with respect and dignity. Meals are served to all, no questions asked.
Meals are served to all ages every Tuesday from 5-6 pm at the Chelmsford Senior Center (75 Groton Road), and volunteering opportunities range from meal team members, cooks, and dishwashers to food pick up and musical accompaniment for the diners. Find out more at Table of Plenty Volunteer Opportunities.
Friends of the Senior Center
Every month, the Friends of the Senior Center publish a list of its organizational volunteer opportunities in the newsletter, Messenger. Helping seniors in the community by serving on committees to further their best lives can be a great way for former executives to use their business experience. There are many programs at the Senior Center that also have volunteer needs, including Meals on Wheels, the Friend's Café, and the Friend's Treasure Shop. Contact Wayne in the Friends office at (978) 846-4115.
The Power of Flowers Project
The Power of Flowers Project is a group of volunteers dedicated to enriching the lives of others by harnessing the proven power of flowers to lift spirits and promote healing. The group takes gently used flowers from weddings, banquets, business conferences, and memorial services – any event where fresh flowers are often left behind or thrown away – and renewing and refreshing them for reuse.
The group donates the refreshed bouquets to people who are lonely, isolated, ill, or simply going through a rough patch. If you would like to add your creative talents to refreshing designs or pick up flowers being donated, your time is welcomed. A little time gives a lot back to this local nonprofit operated out of Tewksbury Hospital. They are also looking for operational volunteers to help with tasks like technology, administration, fund-raising, grant writing, promotions and establishing partnerships with other organizations. The Power of Flowers Project contact is Liz Jegasothy at (978) 226-8545. Find out more about the organization at pofproject.org.
AARP Opportunities
By far the largest organization for senior volunteers in the Chelmsford area is the AARP. Not just for "retired persons" anymore, this nationwide association offers a wide range of types of volunteering all across the Merrimack Valley. The local AARP website lists ways to volunteer within AARP as well as curated volunteer openings with other local organizations.
Volunteering keeps seniors from isolating and can impart a sense of purpose that helps them regain a spring in their steps. Helping others is good for a healthy mental state and improves the lives of those around you. Visiting Angels of Chelmsford supports elderly clients who still want to get out there and give of themselves at any age. Call us at (978) 244-0200 to find out how an Angel can support your loved one's independence today.