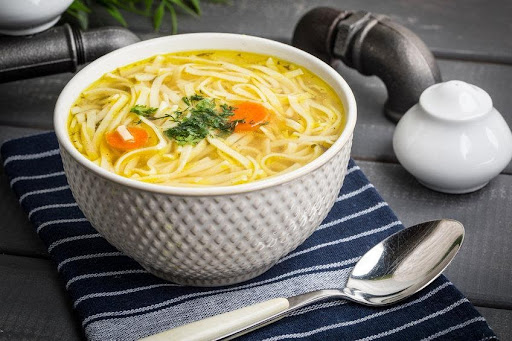 National Soup Month: Soups with Immune-Boosting Power
The first full month of winter is the perfect time to celebrate a simple warm bowl of soup. January is National Soup Month, a time to celebrate the savory broths that keep us warm throughout the winter. Soup is always comforting, but it's a regular go-to when you catch a cold or flu.
But you don't have to wait to get sick to reap the health benefits of soup. In fact, many soups contain ingredients that support a healthy immune system and will keep illness at bay. They're extra important during cold and flu season when your body needs some outside help. The next time you're ready to slurp some comforting soup, try your hand at these immune-boosting varieties.
Chicken Soup
Chicken soup has a reputation for healing the cold and flu, and it's often the first thought for immunity-boosting soup. Chicken soup acts as an anti-inflammatory agent for your nasal cells, giving your nose relief in cold, dry weather or through seasonal illness. The added onions have decongestant properties, while carrots enable our bodies to produce vitamin A, which strengthens our white blood cells and allows us to better fight off infection. Aside from providing protein, chicken also provides the amino acid cysteine, which thins mucus in the lungs, aiding in chest decongestion and faster healing. The combination of all three makes chicken soup the king of immunity boosters during cold season or not.
Minestrone Soup
Minestrone is another soup that begins with onions and carrots. Minestrone is packed with vegetables, like tomatoes, zucchini, garlic, and kale to add to those already beneficial ingredients. Kale contains high levels of Vitamin C, which helps fight off infections and regenerates other antioxidants in the body, including Vitamin E. These antioxidants flush toxins from your system, clearing the way for the immune system to provide better support.
Carrot Ginger Soup
Packed with antioxidants, carrot ginger soup is a nutrition powerhouse. Ginger is a root vegetable with several health benefits and has been known to treat nausea and vomiting, dysmenorrhea, morning sickness, and arthritis. It has anti-inflammatory powers, much like turmeric, also found in this soup. Together the two fight off inflammation, which commonly takes form in the body as a puffy face, swollen limbs, brain fog, fatigue, sluggishness, anxiety, moodiness, and trouble concentrating. Plus, this recipe includes oranges adding a surge of Vitamin C to the mix.
Garlic Soup
Garlic is an anti-inflammatory agent and has anti-viral properties, making it a key player in the fight against colds. Studies show that garlic may reduce the risk of becoming sick or shorten the duration of your sickness. Many garlic soups are clear broths made with 20 to 40 cloves of garlic, but others exist with a cream base to lighten the flavor. If you love the taste of garlic, it's worth it to pack as much garlic into your broth as you can to achieve peak health benefits.
Find your own Immune-Boosting Soup
With the right ingredients, any soup can benefit your immune system and overall health. Green leafy vegetables like kale, spinach and Swiss chard contain folate, an immune-boosting nutrient. Cruciferous veggies like cauliflower, broccoli, and brussels sprouts are rich in glutathione, a powerful antioxidant that helps fight off infection. Mushrooms are high in zinc, and without enough zinc, bodies tend to have fewer white blood cells to help fight off disease. Any combination of these foods in a soup will provide you with the health benefits you seek from a warm bowl of soup.
A healthy body starts with a healthy diet, and it's important to consider what you're eating every day—even when you're not sick. Visiting Angels Chelmsford offers meal planning and preparation services to help you develop the right kind of diet for your body. Our caregivers consider all your health concerns, including chronic diseases, when developing a food plan. Serving Billerica, Burlington, Chelmsford, Dracut, Lowell, Tewksbury, Wilmington, Winchester, Woburn, and the surrounding areas, our caregivers offer various services beyond meal management. Reach out today to learn more about the benefits of home care and the options available to you at (978) 244-0200.