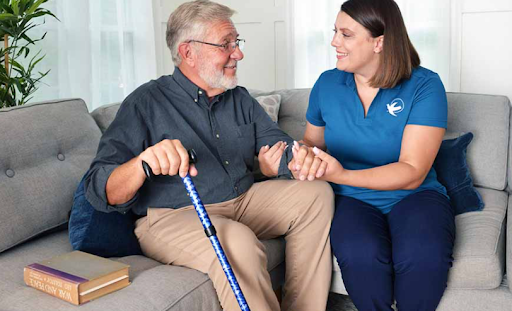 Starting your career journey as a professional caregiver
If you've decided to take on the role of a professional caregiver, you're likely putting your all into it. Caregivers are naturally compassionate people, and caregiving is a rewarding career choice that feeds curiosity and personal growth. There are several opportunities available to you as a caregiver with Visiting Angels, and the beginning of your journey with us is only a click away.
What is caregiving?
A caregiver provides non-medical care to another person to help them achieve their highest quality of life. Professional caregiving often involves personal care tasks like feeding and bathing. Caregivers have a significant job as they are on the front lines providing direct care to those in need.
Caregivers fall into two categories: family and professional. A family caregiver provides care to a family member, often an adult, to their aging parents. A professional caregiver is a trained individual who assists clients to live more comfortably and safely at home.
Types of caregiving
Caregiving is not limited to one direct set of services. There are many options available, and as a caregiver, the more trained you are to handle any situation or any client, the better. In at-home care agencies like Visiting Angels, you'll provide seniors with various customized services to help them age in place, including:
Companion Care. Companion care is a basic level of care provided to seniors who can take care of themselves but need extra assistance around the house. You'll help run errands, assist with appointments, cook meals, offer mobility assistance, perform light housekeeping, and engage in meaningful companionship as a caregiver.
Personal Care. Personalized care provides the same level of companion care but includes additional personal care, such as grooming, showering, and toileting.
Palliative Care. Clients with a chronic illness may seek palliative care. A caregiver provides personal care services with special training to understand the best approach to caring for someone with the individuals' specific condition.
Respite Care. All caregivers need an extra hand sometimes and family caregivers are no exception. They will sometimes hire a part-time or temporary professional caregiver through respite care. As a respite caregiver, you may provide a variety of services, but with the additional goal of putting the primary family caregiver at ease.
At Visiting Angels, our caregivers are specially trained to go above and beyond basic personal care. Our in-home caregivers can also offer more advanced forms of care, including:
Ready-Set-Go Home Care. As a caregiver, you'll assist with the transition home from the hospital after an extended stay and provide care to reduce their chances of readmission.
Dementia Care. Clients with dementia, including Alzheimer's, often have different needs and concerns. You'll learn how to work with dementia patients and offer memory care services to help them care for themselves and prevent wandering or falls.
End of Life Care. Alongside a hospice team, you'll work to help the client feel safe and comfortable when they are ready to enter the final stages of life.
Safe and Steady Fall Prevention. Falling is one of the top concerns for seniors and families. You'll learn how to keep clients safe in their homes and minimize their risk of falling.
As a locally owned home care agency, Visiting Angels is dedicated to positively impacting the community through personalized at-home care to aging adults. We offer competitive pay, retirement plans, flexible hours, clear career paths and scholarship programs, bonus opportunities, paid training, paid time off and sick time, reimbursable mileage, and more.
Through our many client testimonials, we understand the immense impact that in-home caregivers have during these vulnerable times in a person's life. Caregivers often become close friends and confidants with their clients, creating a friendship and bond that is so important to the client and their families. Visiting Angels Chelmsford is hiring full-time and part-time in the Greater Lowell and Greater Burlington areas. If you're ready to start your caregiving career with Visiting Angels, apply online today.