In Home Care in Chicago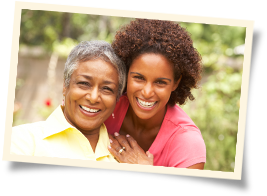 For our aging population, this year has been difficult for many reasons. Our in home care professionals have helped seniors and their families across the region, providing trusted, compassionate support in times of need. At Visiting Angels® Chicago Lakeshore, we know it's not enough to alleviate physical difficulties.
We also help to ease the emotional and mental struggles of our clients. Here's how.
3 Ways We Reduce The Health Impacts of Isolation
Being isolated in your home may not always be a temporary feeling. It can also take a significant toll on health and overall well-being. If your grandparent or parent is on their own, here's how we can reduce the effects of isolation:
We offer companionship and social contact. With our in home care services at Visiting Angels Chicago Lakeshore, your loved one isn't being visited by a stranger. Instead, we carefully match up each client with a professional who has the right temperament and skill set to support them. This caregiver will cheerfully complete the previously requested care plan for your loved one, while offering friendly companionship, conversation, and social contact.
We help seniors stay moving. One of the most challenging aspects of prolonged isolation is the effects it has on the body. This isolation can result in a more lethargic lifestyle and may cause some seniors to decline in health or even become bedbound. Even after a period of isolation, it can be difficult for seniors to recover their previous strength and mobility. We gently assist clients in staying active on their terms, even if it's just walking around their living areas on a routine basis.
We make it easier to get in touch. Even virtual contact with family can be enormously gratifying to isolated seniors in Chicago. Your family member's caregiver can help your loved one get online and begin virtual communication with family and friends. That way, your loved one can reach out via email, browse through shared family albums, or even take part in regular video chats. It can be a great source of comfort, and can remind your loved one they are significant and important to others.
Schedule Trusted, Compassionate In Home Care in Chicago
At our in home care agency, we consult closely with clients and their families to make sure all needs are taken care of. We're committed to helping seniors thrive at home in:
Chicago
River North
Downtown

Lakeview
West Loop

Streeterville
Old Town
And throughout the surrounding area
Schedule in home care services from your trusted team at Visiting Angels Chicago Lakeshore. All you have to do is call our office, and we'll help you get started.