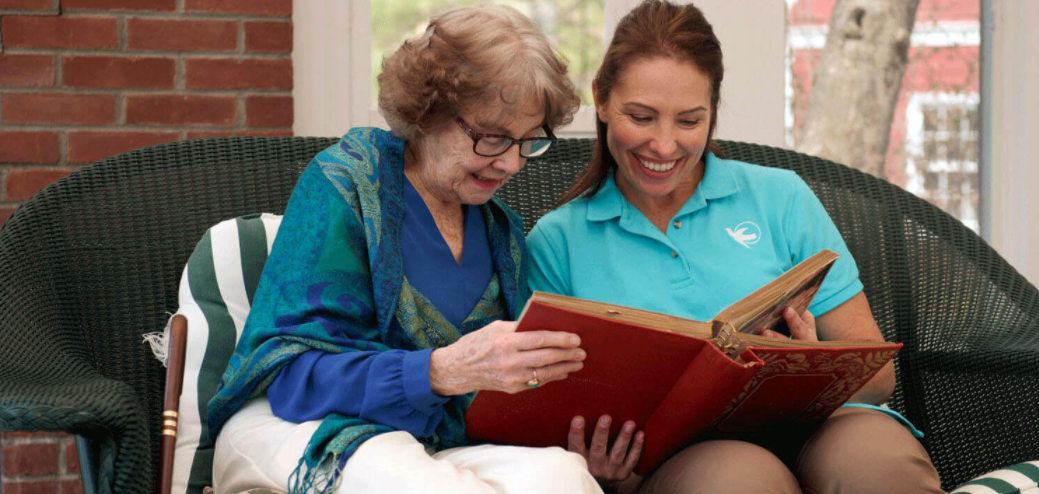 Helping Older Adults Curb Loneliness
Loneliness hurts. While it's painful to feel lonely ourselves, it's almost worse to worry that a loved one is lonely, especially an aging loved one. But life can be complicated for older adults. While they may enjoy longevity themselves, seniors may experience bouts of loss where they find themselves saying goodbye often to beloved members of their social circle. They may have lost their spouse, siblings, or friends.
While many older adults have been through a lot and tend to be emotionally strong and resilient, loneliness is a heavy emotion to carry. Doing so can have physical implications if they don't get enough emotional support. The CDC reports: "Loneliness and social isolation in older adults are serious public health risks affecting a significant number of people in the United States and putting them at risk for dementia and other serious medical conditions."
When you're caring for a senior, it's important to manage the emotional aspects of care with as much thought, diligence, and sensitivity as the physical dimensions of care. Managing loneliness is essential and it is ongoing. Here's what to consider when helping to curb loneliness.
A Robust Routine
Routines help make us feel comfortable, centered, and connected. When we aren't anchored to a routine, we can feel lost, disconnected, and unsuccessful. This can seed a feeling of isolation. The CDC explains: "Social isolation is a lack of social connections."
Creating a routine around activities that are social, engaging, interesting, and fun builds those connections. While the COVID pandemic limited what many older adults were able to do, the world is beginning to open to them again as more and more people are vaccinated.
As long as their doctor is on board, seniors can begin to take advantage of the freedom and build healthy routines. Swimming pools are opening. Some exercise classes are welcoming masked and vaccinated participants back. Likewise, some volunteer opportunities are inviting socially distanced participants to assist. Activities where older adults can meet, grow their skills, and help other people are so important in combatting loneliness.
Visiting Angels West Cincinnati can help. Our Caregivers understand seniors. We know how important these social engagements are; we can help ensure and facilitate routines by getting our clients to their classes and appointments. Our Caregivers also share joyful companionship with their clients - accompany them on walks, play games, read books, and enjoy visits with them.
Our Caregivers can also help reduce some of the household chores by taking on light housework, laundry, cooking, and shopping duties. We find that older adults can better focus on developing a happy routine if these chores are not weighing them down. Running a household is challenging, but it shouldn't be isolating. Let us take on some of the heavy lifting.
Customized Care
Our Caregivers have plenty of experience when it comes to caring for seniors. We know how to increase services that they evolve as our clients' needs change. This gives peace of mind to our clients and their families. They know that they will always be in good hands. We pride ourselves on maintaining good communication with our clients and their families and advancing services as needed. Our Caregivers customize care to suit each client's needs. Many of our Caregivers are specially trained to support our clients who struggle with dementia, including Alzheimer's disease.
It is beneficial for families who live far from their aging loved ones to know that a Visiting Angels West Cincinnati Caregiver is watching over their family member. Our long-distance care program ensures that family members who are far away stay in the loop regarding their loved one's care.
Social Care
While there is no substitute for person-to-person contact, getting active online is a pretty nice way to keep in touch, especially with younger family members. Visiting Angels Social Care Program gives our clients the chance to learn to navigate the internet and social media fluidly and safely. It is a great way to learn a new skill, working with a professional who knows how to help older adults feel comfortable with technology. Our clients can move at their own pace as they learn to connect online.
Visiting Angels West Cincinnati: Here to Help
Loneliness is hard to live with; Visiting Angels West Cincinnati is here to help! Give us a call at 513-598-6770 or visit us online to get started.