How to Stay Cool and Hydrated During the Dog Days of Summer
The dog days of summer are upon us. These hot, sweaty days are conflicting because on the one hand we feel like the urge to soak up as much summer as we can before it goes away. But at the same time, it can be dangerously hot and humid. While the warmth and sunshine can feel wonderful, we also must be careful, especially when it comes to staying hydrated.
According to the Cleveland Clinic, the advice that has been circulating for years is a good rule of thumb: drinking eight (8 oz) glasses of water daily is a good practice. It ensures that we get our daily dose of hydration.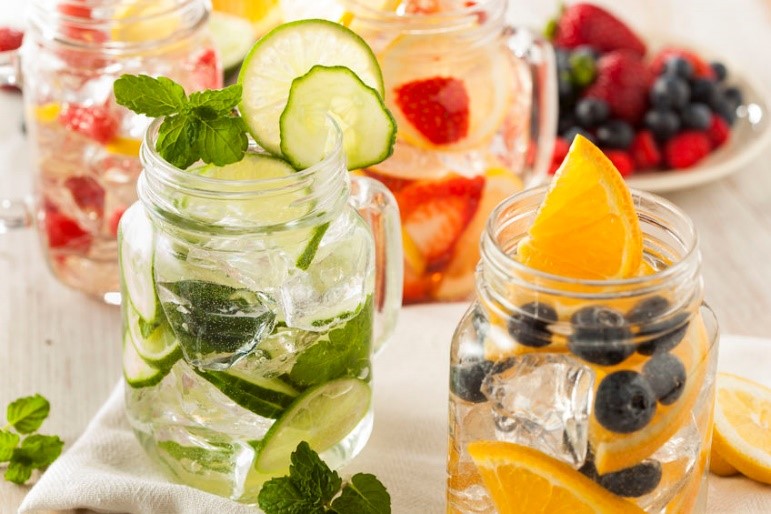 This is especially important for seniors. Seniors start with a lower amount of water in their bodies than their younger counterparts. An additional challenge for seniors-they may not always be aware of their hydration needs. The Cleveland Clinic explains: "as you age, that sense of thirst diminishes. So even when your body needs to be replenished with water, you might not realize it. Because of that, many older adults don't drink enough liquids." Some symptoms of dehydration include dizziness, fatigue, and confusion.
So how do you stay one step ahead of your hydration needs and ensure that you're well hydrated? Consider these tips to make sure you get your 64 ounces a day.
Make It Fancy
Let's be honest: drinking plain old water can get boring. Summer is all about chilly tea and lemonade. While these drinks may refresh our taste buds, they don't always truly quench our thirst. They are fine treats if used moderately, but we also need our steady stream of H20 to ensure that we're staying fully and properly hydrated.
There are lots of fun ways to liven up plain old water. Slice cucumbers, lemons, limes, or oranges and add to a cold pitcher of water for a fancy and refreshing beverage. To take it a step further, consider investing in a water infuser pitcher. These allow you (or your Visiting Angels Caregiver) to add melon, berries, herbs or veggies to your water for a refreshing blast of flavor and hydration.
Seltzer and carbonated waters are also popular and make a refreshing choice. While those in cans cost about as much as soda, you can find much cheaper varieties in one-liter bottles at the grocery store or pharmacy. And don't worry, it's hydrating. Emily Shiffer, writing for Food Network reports: "if you're obsessed with seltzer, there's good news: it counts towards your daily water intake totals."
Eat It Up
One of the joys of summertime is our succulent late summer harvest. In the Midwest for example, it's melon, cucumber, and stone fruit season. It doesn't take much contemplation to realize that these delectable delights are juicy and refreshing because they are largely made up of water. Incorporate these fruits into your diet to help stay cool and hydrated this summer.
Here's the percentage of water that comprises some of the late summer's most tantalizing foods:
It's one more way our fruits and veggies serve our bodies well; they nourish and hydrate us.
Frozen Treats
Nothing feels better than sitting outside and enjoying the summer weather-except doing so with a lovely frosty treat in hand! Popsicles are cold, delicious, and hydrating. Many, though, are made with a lot of sugar. If you buy them, read the labels, and target a variety that is made with natural ingredients and low in sugar.
Increasingly, people are making their own, which is fun and it's a great way to beat our COVID-19 blues. Ask your Visiting Angels Caregiver to pick up supplies at the farmer's market. Buy a bunch of melon, berries, stone fruits, even cucumbers-whatever looks plentiful and affordable. You can find popsicle molds online or at many grocery or house wares stores. Find an easy recipe and get creative.
Milk It
Good old-fashioned milk is surprisingly hydrating, and it can taste delicious on a hot day, especially if you add some chocolate syrup for a classic treat. Interestingly, Lisa Drayer, writing for CNN explains: "milk was found to be even more hydrating than plain water because it contains the sugar lactose, some protein and some fat, all of which help to slow the emptying of fluid from the stomach and keep hydration happening over a longer period of time."
Enjoy these glorious final days of summer and remember to stay cool and hydrated.