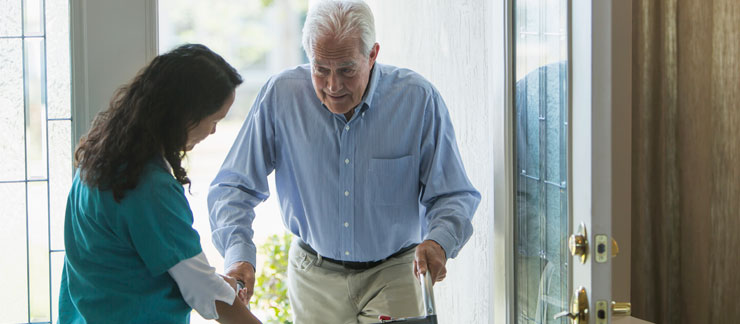 10 Critical Safety Tips to Fall-Proof Your Aging Parent's Home
If you notice your elderly mom or dad is having more problems getting around independently, your family is at a critical juncture.
You're not alone. According to the World Health Organization (WHO), falls are the second leading cause of accidental or unintentional injury deaths worldwide. Adults older than 65 years of age suffer the greatest number of fatal falls.
The threat of accidental death inside your parent's home is frightening, but the reality is, things are much different after a fall, even if a person survives it.
In many cases, the first fall can completely change a senior's quality of life. It can be the beginning of a downward spiral where your loved one eventually loses the independence he or she has always known. That's why fall prevention for the elderly is so important.
If you're beginning to worry more about Mom or Dad's mobility, below are important steps you can take to fall-proof your parent's home and avoid this catastrophic event.
Floor Traction is Key
Start with the basics. These are the first crucial steps you should take to fall-proof your loved one's home:
Many seniors shuffle their feet instead of picking them up when they walk, which puts them at a much higher risk of falling. With this in mind, secure all carpets to the floor, and consider covering hardwood with anchored carpet. This presents a softer surface and gives your loved one more traction around the house. Get rid of any high-pile carpets that can cause trips. As a rule of thumb, every rug or carpet should require some effort to move or adjust.
Remove throw rugs that can slip from under your parent's feet. If Mom or Dad wants a rug for a room, consider buying a non-slip rug pad. Rug anchors can also help prevent slips and trips.
Ensure Home is Easy to Navigate
Along with traction, the home must be easy to navigate. The following tips will help ensure your parent can move around the house safely:
Open the space. Arrange furniture so that there is plenty of space to move around. That may mean getting rid of end tables, or furniture that's only in the room for décor.
Ensure commonly used items are accessible. Think of food in pantries with high shelves, clothing in closets, power outlets and light switches behind small furniture, pots, pans and dishes in hanging cabinets, as well as car keys if they're still driving – you don't want Mom or Dad having to reach for these things, as this can result in falls. Spend some time with your parent, figure out the things she needs to access the most and make them accessible.
Ensure adequate lighting. Every single room in the house needs good lighting, especially where there are stairs. Purchase night-lights and put them in the bathroom, kitchen and hallways in case Mom or Dad gets up in the middle of the night.
Secure the Stairs
Stairs can be dangerous for the elderly, especially with mobility limitations. It's a common location for a debilitating falls to happen. Here are a few suggestions to make the stairs safer:
Install railings. Ensure every set of stairs in your home has at least two railings for your parent to grip while climbing or descending the stairs.
Apply non-slip adhesive strips to the stairs. We can't spend enough time talking about the stairs. That's because staircase and stairway accidents are the second-leading cause of accidental injury, second only to motor vehicle accidents. Per the National Safety Council, every year, there are 12,000 stairway accidental deaths. And that number includes people of all ages.
Install grab bars in the bathtub, shower, and toilets. Of the one in three seniors who fall annually, the National Institute on Aging says 80 percent of those falls are in the bathroom.
Go the Extra Mile
Caring for an elderly loved one who needs help getting around the house safely can be a challenge. In addition to the tips above, here are a couple of recommendations to help you and your elderly family member:
Consider a help button. Your loved one must be able to reach someone in case a fall does happen. There are numerous brands to choose from, so do your due diligence using reviews and price.
Consider professional home care services. Superior home care providers can fall-proof your home. Professional caregivers are also around to complete tasks for your loved one, reducing the risk of injury. While you may be confident in assuming the role as family caregiver for your parent, the reality is that professional caregivers have far more experience in recognizing the pitfalls in Mom or Dad's home and are critical in securing it.
You can significantly mitigate your parent's risk of falling by following these steps. For more information on how to prevent accidents in the home, visit our Falls Prevention page.