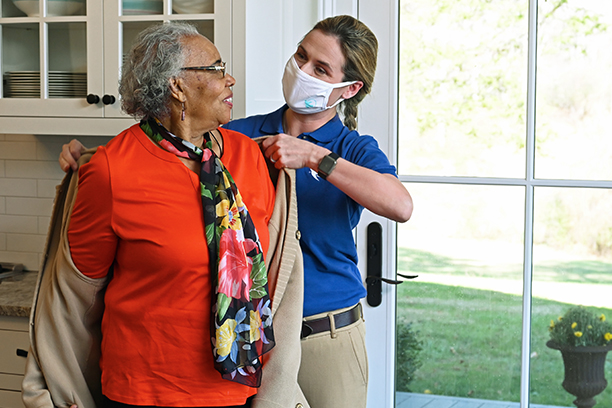 Alzheimer's Care in Clearwater FL
Alzheimer's Care Referrals from Visiting Angels Clearwater FL
When your aging parent or loved one receives a diagnosis of Alzheimer's it can seem like the world as you know it is crashing down around you. Many questions may come to mind such as: Will I be able to provide my family member with all the care they will need? How will I know my loved one is safe at home? How can I be sure my mom or dad is eating properly and following dietary restrictions? What if they forget to take their medication? These are all normal concerns and things which an Alzheimer's care referral from Visiting Angels Clearwater FL can help.
Referrals for Alzheimer's care from Visiting Angels Clearwater FL can put your mind at ease and offer guidance for your family during a challenging diagnosis. While there are many unknowns when it comes to Alzheimer's and other memory disorders, one thing is for certain. Over time, your loved one will need increasing assistance. There is no need to take on that challenge alone. Visiting Angels Clearwater FL can refer you to a knowledgeable Alzheimer's care provider.
Live Independently with an Alzheimer's Care Referral
One of the biggest concerns when a loved one is faced with a diagnosis of Alzheimer's is whether or not they will be able to continue living independently. It is often assumed that diagnosis of a memory disorder means a family member will have to move to a care facility. A forced move and change in routine can be particularly traumatic for someone with a memory disorder. Alzheimer's care through Visiting Angels Clearwater FL referrals gives you access to caregivers who are well versed in caring for Alzheimer's patients so that you or your loved one can remain comfortably at home.
Our Referred Alzheimer's Care Providers Help with Many Activities
Some of the many Alzheimer's care services which providers referred by Visiting Angels Clearwater FL can perform include helping your loved one with meal times. This includes meal planning, grocery shopping, and nutritious meal preparation. Senior care providers can monitor your loved one to be sure they are getting the nutrients they need. Additionally, caregivers can offer your family member medication reminders and keep you informed if your parent or loved one is missing doses. Alzheimer's care referrals from Visiting Angels Clearwater FL can ease your mind and provide much needed assistance to your family.
When you contact Visiting Angels Clearwater FL for an Alzheimer's care referral, we will forward your information such as hours needed, types of services desired and rate you would like to pay, to our trusted network of independent contractors. You will have the opportunity to select your caregiver from those who respond with interest. With Alzheimer's care referrals from Visiting Angels Clearwater FL, you are in control of your loved one's care.
Call Visiting Angels Clearwater FL to speak to one of our specialists and learn more about Alzheimer's care referrals.
* Visiting Angels Clearwater FL is an independent contractor based nurse registry located in the state of Florida. We ONLY do business with independent contractors and do not employ any caregivers. Florida License: 30211281
Serving North Pinellas County, Florida
Visiting Angels Clearwater, Florida
922 Florida Ave
Palm Harbor, FL 34683
Phone: 727-787-3033
727-787-3033 Palm Harbor