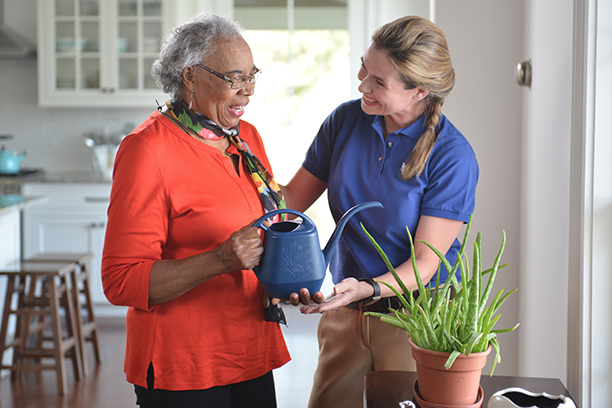 Choosing Better Caregiver Referrals in Clearwater
Many seniors require additional support around the home. But it can be difficult to tell when they need in-home care. For many seniors, it can be hard to admit that they are struggling. It may be a point of pride or they may simply not realize that they require caregiver assistance. That's why it's important to recognize the signs that your loved one may need help around the home. With caregiver referrals from Visiting Angels Clearwater, finding the right support for your loved one can be a simple, stress-free process. Contact us today to find out more.
Recognizing Signs that Your Loved One Needs Help
It may be tough for your loved one to admit that they need help, but a dedicated specialist can assist them to live more independently and with dignity. Are you wondering if your loved one requires caregiver support in Clearwater? Here are some common signs that a senior may require assistance:
They haven't been grooming. If it seems like your loved one hasn't been showering, or is wearing the same clothes as when you last saw them, it's a red flag. They may have difficulty performing these tasks independently, or may be struggling with their memory.
Weight loss. If your loved one seems like they've lost weight, it may be because they're not eating properly or at all. A caregiver can help them plan meals, buy groceries, and monitor their diet.
Neglected food or medicine. If you find spoiled food in the fridge or see that your loved one hasn't taken their medicine recently, it's important to recognize that they may not be remembering to take care of themselves.
Our Caregiver Referrals for Clearwater Families
With caregiver referrals from Visiting Angels Clearwater, you can help your loved one manage their daily lives. We'll help you through each step of the caregiver referral process, so you know that the caregivers we recommend can truly help your loved one get the support they need. Whether it's specific care for memory disorders such as dementia, supportive companionship during times of stress, or help around the home, we'll help you find the right in-home care for your loved one.
Find a reliable caregiver in Clearwater, Palm Harbor, Dunedin, Safety Harbor, Clearwater Beach, Oldsmar, or the local area. Call Visiting Angels Clearwater to learn more about our elder care referrals today.
Serving North Pinellas County, Florida
Visiting Angels CLEARWATER, FLORIDA
922 Florida Ave
Palm Harbor, FL 34683
Phone: 727-787-3033
727-787-3033 Palm Harbor