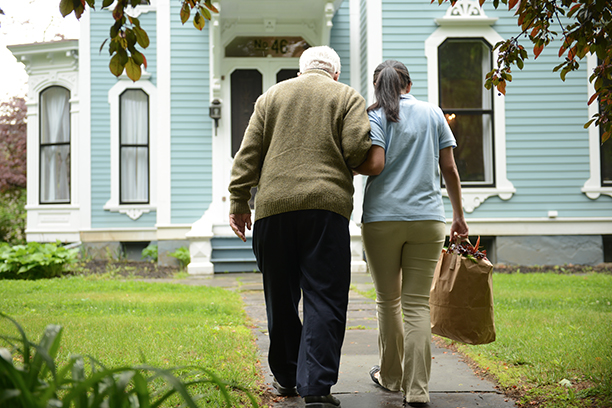 Dementia Care in Palm Harbor
How To Help When They Say They Want To Go Home
If you are caring for a loved one suffering from Alzheimer's or dementia, you may be familiar with hearing them expressing their desire to go home. Of course, they may already be home, have moved to your house or are staying in assisted living. At Visiting Angels® Clearwater, we understand this question produces anxiety for both you and your loved one. We'd like to offer some tips on how to approach the issue successfully. We also want you to know that the local caregivers we refer are familiar with the unique challenges of dementia care patients in the Palm Harbor area.
Three Helpful and Important Tips
Do not try to reason with them. Your natural reaction might be an inclination to try and explain to your loved one that they are already home or that they've moved away. Resist this urge. Attempting to use reason and logic will only frustrate and upset your loved one further. Their brain is no longer able to make the connections necessary to comprehend these explanations.
Check to make sure they are not in pain or physical distress of any kind (maybe even having to use the restroom). Their desire to go "home" may, in fact, be an expression that something is wrong, and they need relief or comfort. Sometimes, a gentle touch on the arm or a hug (if that's what they like) can also go a long way in calming those who receive dementia care.
Agree & Redirect. Tell your loved one you'd be more than happy to take them home and then distract them and redirect. You could say you have a few things to take care of first and then try to guide them to something interesting to look at or, even better, have them help with a simple task like folding washcloths.
Local Dementia Care Help in Palm Harbor
At Visiting Angels Clearwater, we've spent years developing and cultivating a network of the most qualified and compassionate care caregivers in the Palm Harbor area. We are locally owned and operated and have a strong relationship with the local senior community, including knowledge of resources your loved one might benefit from.
We're proud to provide referrals to dementia care patients and their families in the following nearby locations:
Clearwater
Palm Harbor
Dunedin
Clearwater Beach
Safety Harbor
Oldsmar
Belleair
And the surrounding communities
Call us today and let's talk about how Visiting Angels can help with your loved one's dementia care needs in Palm Harbor. At Visiting Angels Clearwater we will work hard to find a caregiver who is the perfect fit for your family.
Serving North Pinellas County, Florida
Visiting Angels CLEARWATER, FLORIDA
922 Florida Ave
Palm Harbor, FL 34683
Phone: 727-787-3033
727-787-3033 Palm Harbor