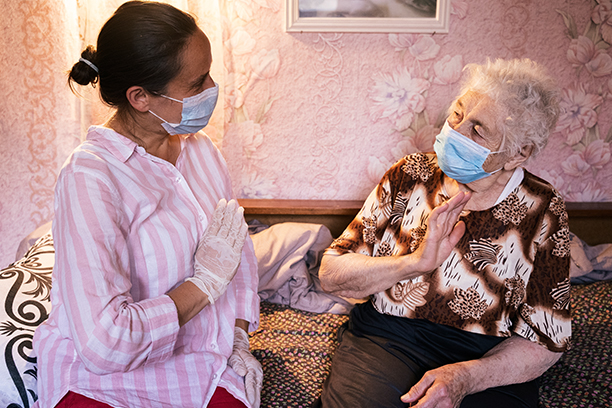 Elderly Companion Care
Elderly Companion Care Referrals from Visiting Angels Clearwater FL
As our parents and loved ones age, you may find they are spending more and more time alone. As it becomes harder to drive, or get to social activities, it's not uncommon for seniors to become withdrawn. Loss of friends or loved ones can also leave an aging parent feeling isolated. Thankfully, elderly companion care referrals from Visiting Angels Clearwater FL can help.
At Visiting Angels Clearwater FL, our elderly companion care registry is trusted by countless families in the Clearwater area to provide reliable referrals for senior care. Our independent contractor network is filled with qualified, compassionate caregivers who are knowledgeable about senior care services. At Visiting Angels Clearwater it's important to us that the referred caregiver is a good fit. It is our goal that any caregiver you select from our referral network will treat you or your loved one with the dignity and respect deserved.
Friendly and Compassionate Elderly Companion Care Providers
Your family member will look forward to having regular visits from their compassionate caregiver. The elderly companion care providers referred by Visiting Angels Clearwater FL are professional and experienced. They are adept at helping their clients feel at ease and many form lasting bonds. Many seniors find that their caregiver becomes like an additional member of the family. Through shared activities, help around the house, and mealtime companionship, your loved one can receive the one-on-one interaction they need.
Customized Elderly Companion Care Services
When you contact Visiting Angels Clearwater FL for an elderly companion care referral, we will ask many questions to gain an understanding of your health and wellness needs. You can tell us about the type of care you are looking for, what type of caregiver you think you would work best with, and how often you would like them to visit. You also get to decide how much compensation the caregiver will receive. We handle the task of sending out your information to our caregiver network. We are able to reach many qualified senior care professionals at once so you don't have to spend time searching. You then select your caregiver from among those who respond. With elderly companion care referrals from Visiting Angels Clearwater FL, you are in control of your care.
Referred caregivers from Visiting Angels Clearwater FL can assist with an assortment of elderly companion care options. Whether you are looking for someone to help with bathing, dressing and personal hygiene, help with planning, shopping for, and preparing nutritious meals, or just to spend quality time playing a friendly game of cards or going for walks, the referred elderly companion care providers from Visiting Angels Clearwater FL can meet your needs.
For elderly care companion referrals you can count on, call Visiting Angels Clearwater FL to get started.
* Visiting Angels Clearwater FL is an independent contractor based nurse registry located in the state of Florida. We ONLY do business with independent contractors and do not employ any caregivers.
Florida License: 30211281
Serving North Pinellas County, Florida
Visiting Angels CLEARWATER, FLORIDA
922 Florida Ave
Palm Harbor, FL 34683
Phone: 727-787-3033
727-787-3033 Palm Harbor