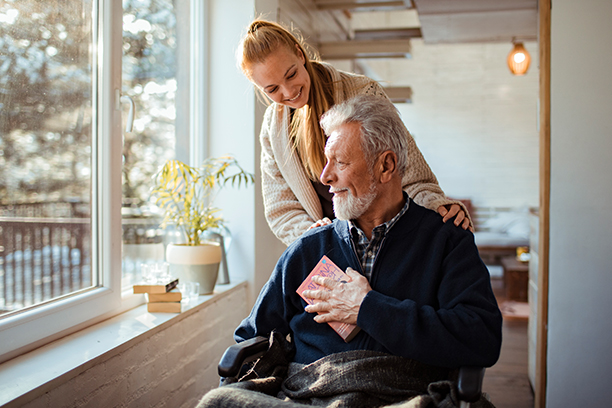 Help for Seniors Clearwater FL
Find Trustworthy Help for Seniors with a Referral from Visiting Angels Clearwater
Visiting Angels Clearwater FL is proud to provide referrals for reliable help for seniors. Our network of independent contractors are experienced at providing care to elderly persons. When you notice a loved one begin to slow down it may be a good time to bring in some outside help. Whether your aging family member has begun to struggle with personal hygiene, or staying on top of household organization, the referred caregivers in the Visiting Angels Clearwater FL network are happy to provide in home help for seniors.
Visiting Angels Clearwater FL is dedicated to finding dignified, respectful help for seniors in the Clearwater FL area. At Visiting Angels Clearwater we believe your elderly loved one deserves to be treated with kindness and compassion, the same way we would treat our own family members. Our network of independent contractors share our values and enjoy working with aging clients. When you choose Visiting Angels Clearwater FL to find help for seniors, you will gain access to this network of top notch caregivers.
Referred Caregivers Provide Much Help for Seniors
Finding help for seniors home care needs is easy with a referral from Visiting Angels Clearwater FL. Our contracted senior care providers can help your parent or loved one with many types of at home care. The caregiver you choose can help with:
Transportation to physician's appointments
Running errands and rides to social activities
Light housekeeping tasks such as vacuuming and folding laundry
Meal planning and preparation
Medication reminders
Assistance with Dressing and all matters of personal care
And much more
Help for Seniors on the Schedule You Set
There's no need to alter your schedule in order to get help for seniors. Visiting Angels Clearwater FL has caregivers in our network to cover any scheduling needs. Do you need someone to look out for your loved one during the day while family members work? How about a caregiver to help during dinner time and provide evening companionship? Perhaps you are looking for an elder care professional who can stay with your loved one overnight and make sure they're safe. These are all options you can specify when selecting a referred provider from Visiting Angels Clearwater FL.
When looking for help for seniors you don't have to wait a long time to receive assistance. Visiting Angels Clearwater FL sends all of your requirements to our contractor network and can generally provide you with a referral within 24-48 hours. If you have a situation where you need immediate care, we can often provide same day referrals for senior care.
To find trustworthy help for seniors, contact Visiting Angels Clearwater FL. Our knowledgeable staff can answer questions and help you receive a referral for qualified care.
* Visiting Angels Clearwater FL is an independent contractor based nurse registry located in the state of Florida. We ONLY do business with independent contractors and do not employ any caregivers.
Florida License: 30211281
Serving North Pinellas County, Florida
Visiting Angels
CLEARWATER, FLORIDA
922 Florida Ave
Palm Harbor, FL 34683
Phone: 727-787-3033
727-787-3033 Palm Harbor
Fax: 727-789-5085
NR30211281