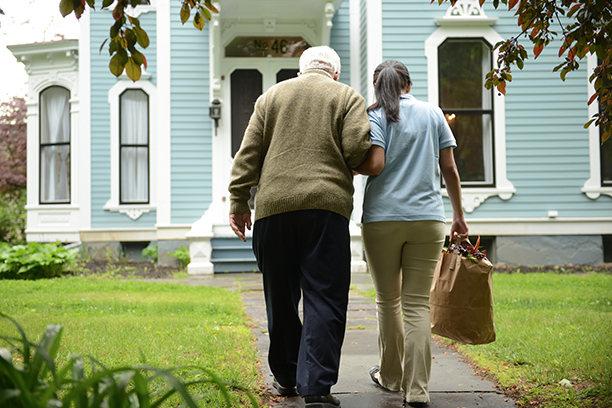 Home Care Referrals in Clearwater Beach
Visiting Angels® Clearwater provides home care referrals to make each day simpler and more meaningful for seniors living at home. With care referral services from our Nurse Registry, older adults in the Clearwater Beach area can maintain their independence and continue to enjoy all the comforts of home.
We provide referrals for a range of home care services across the greater Clearwater Beach community, assisting seniors in Dunedin, Safety Harbor, Clearwater, Palm Harbor, Oldsmar, and the local area.
As a nurse registry service, we can connect you with dedicated care professionals who provide compassionate home care for seniors in need. From friendly conversation to discreet support with bathing and dressing, older adults can receive the care they need to flourish.
About Our Home Care Referrals in Clearwater Beach
For seniors and people with disabilities, the freedom to live safely and comfortably at home is invaluable. It means independence, fulfillment, and maintaining a connection to the people and places they love. However, many members of our community need in-home support to fully thrive.
If you have an elderly loved one who needs assistance at home, we can help. Visiting Angels Clearwater has an expansive network of home care professionals who can provide customized care for your loved one. These care services can include:
Enjoyable companionship
Medication reminders
Walking support
Grocery shopping and other errands
Basic housekeeping
Dietary planning and meal preparation
Bathing and dressing help
Relief for family caregivers
Caregiving doesn't stick to rigid schedule, and neither do the home care providers we refer. We'll refer you to home care professionals who can be there whenever your family needs them, including holidays and weekends. We offer referrals for short-term and long-term care available 24/7, so you can rest assured your loved one will always have the help they need.
To connect you with the right home care service providers to meet your family's needs, we'll lead you through the following process:
Discussing your situation, care needs, and potential schedules in an initial conversation
Setting up an in-depth consultation to learn more about your senior loved one and the wider context of their care
Identifying several potential home care professionals based on your family's preferences and care needs
Coordinating a meeting with these care professionals for your approval prior to care
Referrals for Personal Care in Clearwater Beach
For older adults and people with disabilities, many routine activities can become stressful and time-consuming. They may even present a health risk. We can refer you to a personal care provider who can take on these tasks or help your loved one manage them more easily.
Depending on their specific abilities and needs, the caregiver we refer can provide the following types of assistance for your family member:
Dignified bathing and dressing assistance
Personal hygiene aid
Reminders for prescribed medications
Support while walking or transferring locations
Creating meal plans and preparing meals
Referrals for Respite Care in Clearwater Beach
Are you already providing care for a relative? If so, you may find yourself losing sight of your own needs. As devoted as you are to your loved one's well-being, it's vital to take care of yourself as well. Respite care is designed to give family caregivers the space they need to rest, recuperate, and tend to their own needs.
We'll connect you to trusted home care professionals who can provide temporary coverage of your caregiving duties. Whether you need a single afternoon to yourself or one day off a week on an ongoing basis, we can help arrange whatever respite care you need.
Companion Care Referrals in Clearwater Beach
There are many reasons why seniors face a higher risk of loneliness and depression. Mobility issues and cognitive decline can make it harder for older adults to engage with their communities. As part of our comprehensive home care referrals, we connect families with companion care providers who can be a comforting presence for seniors living alone.
Companion care addresses the social and emotional well-being of local seniors alongside their physical care needs. These care professionals can assist with the everyday tasks of living, while providing joyful companionship and conversation. They can also accompany older adults on outings and help them reconnect with the activities they enjoy.
Referrals for End of Life Care in Clearwater Beach
We can connect you with end of life care services to help your family navigate this incredibly delicate time. This form of home care prioritizes the comfort of those in the final stages of illness or the end of life transition.
We'll refer you to care professionals who can provide physical and emotional support services for your loved one and your family as a whole. They can also assist with everyday chores so your family is free to focus on each other.
Palliative Care Referrals in Clearwater Beach
Visiting Angels Clearwater can refer you to palliative care providers who can tend to your loved one's physical, social, emotional, and spiritual needs. This holistic service offers comfort and a richer quality of life for people with a serious disease, whatever their life expectancy or age.
Alzheimer's Care and Dementia Care Referrals in Clearwater Beach
Millions of families across the country are familiar with the symptoms and struggles posed by Alzheimer's disease. As the most common form of dementia, it's characterized by memory loss, confusion, and other disorienting symptoms.
For seniors with Alzheimer's and other types of dementia, the stability of home provides comfort at a very destabilizing time. If you're concerned about a loved one with Alzheimer's disease, we can connect you with home care professionals who provide specialized Alzheimer's care and dementia care. These care providers can ensure your loved one's needs are met within a comforting and stable environment.
Alzheimer's care and dementia care include specific care services to address cognitive decline, including medication reminders, mental stimulation, wandering prevention, and transport for appointments.
Hospital Discharge Support in Clearwater Beach
After the stress of a hospital stay, returning home is a blessing. However, many find themselves readmitted because of complications after discharge. Our Ready-Set-Go-Home program is designed to give seniors and other adults the support they need to recover safely at home.
Fall Prevention Guidance
Falls are responsible for more serious injuries among seniors than any other cause. Through our Safe and Steady program, we can refer you to a home care professional who can assess your loved one's fall risk at home, make fall prevention recommendations, and provide walking and transferring support.
Get Started with Home Care in Clearwater Beach Today
Not sure where to start with home care in Clearwater Beach? Call (727) 787-3033 today or contact us online to book a no-cost consultation for our senior care referral services.
Serving North Pinellas County, Florida
Visiting Angels
CLEARWATER, FLORIDA
922 Florida Ave
Palm Harbor, FL 34683
Phone: 727-787-3033
727-787-3033 Palm Harbor
Fax: 727-789-5085
NR30211281