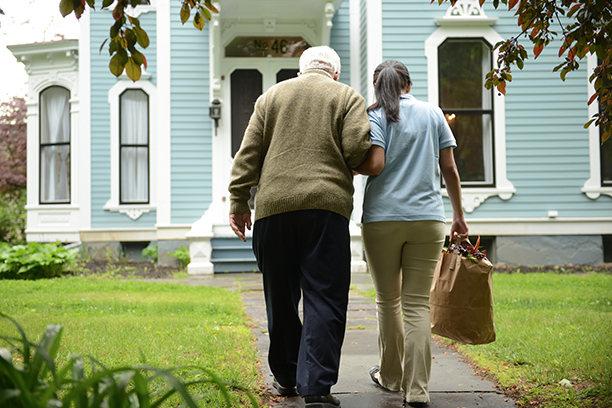 Signs That Your Loved One in the Clearwater Area Needs In-Home Care
As our loved ones age, it's only natural to start worrying about their care and well-being. You want to make sure they're enjoying their golden years with dignity and comfort. Often, that means having an in-home caregiver help with small tasks around the home. At Visiting Angels Clearwater, we help families find in-home care, whether they live in Clearwater, Dunedin, Oldsmar, Clearwater Beach, Palm Harbor, Safety Harbor, or the local area. With years of experience, we know that the first, most important step is deciding whether or not your loved one truly needs additional support.
Signs That Your Loved One Needs In-Home Care
For those of us with aging loved ones, we know that they may struggle to admit they need caregiver support. Some may not even realize that they need it. Here are some signs that your loved one may need in-home care assistance:
Their spouse or close friends have passed away recently. Having regular, dedicated companionship is vital at your loved one's age. Studies have shown that isolation can cause seniors' health to decline seriously.
They've started to neglect their appearance or the appearance of their home. This may be due to lack of strength or ability – maybe they're no longer strong enough to operate machinery like vacuum cleaners – or it may be because they're struggling with memory lapses.
They struggle with a medical condition. If your loved one deals with dementia, diabetes, heart problems, or any other condition that requires regular monitoring or treatment, it's even more important that they have the care they need.
There are many more signs that your loved one may need support. If you've noticed any of the above, or noticed that your loved one simply seems to be struggling, it may be time to consider in-home care from Visiting Angels Clearwater.
Finding The Right In-Home Care in Clearwater
Looking for the right in-home care is never easy when you're juggling work, life, and other obligations. That's why families use Visiting Angels Clearwater. With our in-home care referrals, you can find the perfect caregiver for your loved one. You'll simply tell us what your loved one needs and we'll consult our network to find vetted, high-quality care candidates for your family.
Help your loved one enjoy their golden years. Learn more about the in-home care referrals from Visiting Angels Clearwater by calling us today.
Serving North Pinellas County, Florida
Visiting Angels
CLEARWATER, FLORIDA
922 Florida Ave
Palm Harbor, FL 34683
Phone: 727-787-3033
727-787-3033 Palm Harbor
Fax: 727-789-5085
NR30211281