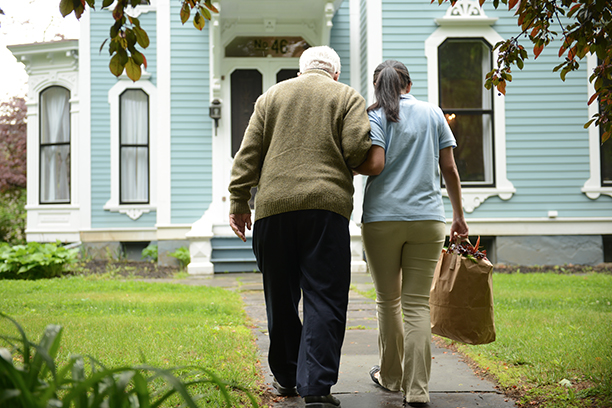 Managing Elder Care Stress in Clearwater
Caring for an aging loved one isn't easy. No matter how much your heart is in the task, the physical, emotional, and mental demands can often be overwhelming. But as a dedicated nurse registry, Visiting Angels® Clearwater knows there are some steps you can take to combat elder care stress today – and minimize the threat of it in the future. This can help to protect not only your health, but your peace of mind, too.
Be careful with your diet. If your body doesn't have the fuel it needs to get through the day, you're going to be tired and also at risk of getting sick. Therefore, make sure you eat regular meals and small snacks in between made from healthy ingredients.
Get enough sleep. Sleep deprivation is an epidemic in America and those caring for seniors, in particular, can be impacted by it. When you get enough sleep, not only will you physically feel better, but you'll be more calm and focused.
Make exercise a regular part of your routine. At Visiting Angels Clearwater, we know stress relief is an important part of life for an elder care provider – and exercise is a great form of it. So make regular time in your schedule for working out, whether it's hitting the gym or going for a brisk walk outside.
Look to family and friends for support. Beyond the physical, caregiving can impact your emotional health, too. That's why, if you're feeling stressed, you should reach out to friends or family members and talk about your situation. And if someone offers to help – whether by providing respite relief or home-cooked meals – take them up on it.
Turn to elder care professionals in Clearwater. Sometimes, providing care on your own isn't enough. When that happens, consider turning to elder care professionals, like those offered through Visiting Angels Clearwater. As a nurse registry service in the Clearwater community, we can connect you with qualified, compassionate, and dedicated professionals to meet your loved one's elder care needs.
Call Visiting Angels Clearwater for a Free Elder Care Consultation
At Visiting Angels Clearwater, we understand that exploring the world of elder care can be stressful for families, whether you live in Clearwater Beach, Dunedin, or Safety Harbor. That's why we offer free in-home consultations to discuss our services, answer your questions, talk about scheduling and costs, and educate you about what to expect. Armed with the facts, you can then make an informed and confident decision that's right for your loved one.
Call Visiting Angels Clearwater today to learn more or set-up your loved one's free elder care consultation. Beyond Clearwater, FL, we offer access to professional elder caregivers in many of the nearby communities, including Palm Harbor, and Oldsmar.
Serving North Pinellas County, Florida
Visiting Angels
CLEARWATER, FLORIDA
922 Florida Ave
Palm Harbor, FL 34683
Phone: 727-787-3033
727-787-3033 Palm Harbor
Fax: 727-789-5085
NR30211281