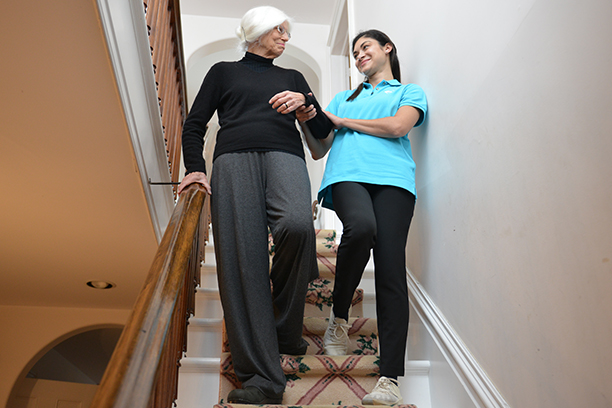 Home Care in Mayfield Heights
As much as you want your elderly loved ones to live where they choose and on their terms, you may reach a point when their care needs are more than you can manage. At Visiting Angels® Cleveland, we offer home care in Mayfield Heights and the surrounding areas to support family caregivers and help local seniors thrive.
All across the Mayfield Heights area, we're known for our compassionate caregivers and our personalized approach to home care. We are a locally owned and operated home care provider that serves families throughout:
Mayfield Heights
Beachwood
Pepper Pike
Mayfield Village
Shaker Heights
Mayfield
Richmond Heights
Cleveland Heights
Garfield Heights
Bratenahl
Our caregivers are deeply invested in the comfort and well-being of their elderly clients — as well as their families. Every member of our team has also undergone a rigorous vetting process, so you can rest assured your loved one will be in good hands.
About Our Home Care Services in Mayfield Heights
If you've taken on a caregiving role yourself, you know just how expansive it can be — particularly as your loved one's needs shift and change. Our home care professionals can assist with a wide range of duties for seniors in Mayfield Heights, including:
Providing companionship and emotional support
Arranging transport to appointments
Planning out, preparing, and serving meals
Performing light housework
Getting groceries and running errands
Helping with walking and transferring
Covering for family caregivers on a temporary basis
Providing medication reminders
Helping with dressing and bathing
Our Home Care Process in Mayfield Heights
At Visiting Angels Cleveland, we offer custom care plans and schedules based on what's best for your loved one and your family as a whole. Our home care services are available 24 hours a day, every day of the year, including holidays.
To fully understand your situation, our care professionals will guide you through the following process:
The first call: The first step in our care process is for you to contact our agency. During this call, we can discuss your situation in general terms, inform you about our services and rates, and set up a consultation for care.
The no-cost consultation: We'll visit your loved one at home and conduct an assessment to find out what support they need, what preferences or concerns they have about care, and how we can best support everyone involved.
The care plan: Based on our evaluation and your family's input, we'll establish a care plan and schedule. Once care begins, we'll continue to monitor your loved one's condition and suggest any changes if needed.
Personal Care Services
Personal care is a cornerstone of our home care services in Mayfield Heights. It covers all the day-to-day activities that can become more difficult with age. If your loved one finds certain tasks difficult or overwhelming, our team is here to help with care and compassion.
Depending on your relative's needs, our caregivers can help with any of the following:
Bathing, dressing, and using the bathroom
Running errands and picking up groceries
Creating a meal plan and cooking
Providing support when walking or changing locations
Offering medication reminders
Taking to appointments
Doing basic housework like laundry
Alzheimer's Care and Dementia Care Services
If your loved one has been diagnosed with Alzheimer's disease or any other form of dementia, you're not alone. These conditions affect millions of families across the country, presenting many unique challenges.
Aging in place can provide comfort and stability for seniors with dementia at a very crucial time. To help your loved one stick to their usual routine in the place where they feel safest, we offer specialized support that can include the following:
Frequent check-ins and monitoring for changes, wandering risk, etc.
Regular visits for mental and social stimulation
Medication reminders
Transport for doctor's appointments
Meal planning, cooking, and monitoring food intake
Companion Care and Social Care
We're social creatures by nature, but loneliness and isolation are all too common among seniors. This can lead to depression, self-neglect, and much poorer quality of life.
At Visiting Angels Cleveland, we address this concern by providing warm, engaging companionship for our clients. We can also help your loved one embrace video chat, social media, and other technologies to maintain connections with family and friends.
Respite Care for Family Caregivers
Whether you're on the brink of burnout or you just want to incorporate more balance into your life as a family caregiver, we're here to support you. Our respite care gives you the chance to take some time off from your caregiving duties without feeling guilty or worrying about your loved one's safety.
End of Life and Palliative Care
Let us help your family through some of life's most difficult moments with our end of life and palliative care services.
Our end of life care is available for individuals nearing the end of their lives due to age or a terminal health condition. We can help make your loved one as comfortable as possible while giving your family the time and space you need to make the most of every moment together.
Palliative care is an option for anyone who has been diagnosed with a serious health issue. Through this form of care, we can ease the discomfort caused by the condition and its treatment, while helping clients and their families embrace the joy that remains through emotional, spiritual, and social support.
Safe and Steady Fall Prevention Program
Falling is one of the most significant risks for seniors living at home. A simple fall can cause serious injuries that limit mobility. It can also make older adults more anxious as they go about their day. We tackle this problem through our fall prevention program, which includes an assessment and fall-proofing recommendations for your loved one's home.
Ready-Set-Go Home Program
Within the first few weeks after returning home the hospital, many seniors are re-admitted for complications related to their stay. To reduce this likelihood and help our clients recover more comfortably at home, we offer support at the hospital, during the transition home, and during recovery. This includes helping your family get the answers you need at the hospital, assisting with discharge instructions, and making sure your loved one gets the follow-up care they need.
Get Started with Home Care in Mayfield Heights Today
Interested in our home care in Mayfield Heights and the surrounding areas? Call Visiting Angels Cleveland at (216) 231-6400 to find out more.
Serving Ohio's Cuyahoga County and Surrounding Communities
Visiting Angels CLEVELAND, OHIO
12200 Fairhill Rd 2nd Flr, B-Wing
Cleveland, OH 44120
Phone: 216-231-6400
Fax: 216-231-6341