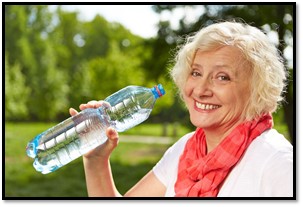 Benefits of a Healthy Kidney
As we age, we know how important it is to care for organs such as our heart and brain, but one organ often overlooked is the kidney. Nearly 15 percent of the adult population in the United States experiences some kidney damage. However, according to the National Kidney Foundation, 90 percent of those living with a kidney condition don't even know they have one.
Since many kidney conditions go unnoticed, it's essential to know how your kidney works and how to tell when it's not healthy.
The Function of the Kidneys
The body has two kidneys located on either side of the spine. Their primary role is to act as a filter to remove toxins from the blood and to turn waste into urine. When you eat or drink, your body takes what it can to convert into energy. What's not used flows into the bloodstream and is filtered through the kidney to separate waste from vitamins, amino acids, and other valuable substances.
The kidney is also responsible for maintaining the body's proper pH balance and producing several hormones. The two main hormones produced by the kidney are renin, which supports the body's blood pressure, and erythropoietin, increasing red blood cell production. The kidney also actives vitamin D in the body so the intestine can absorb calcium.
Kidney Conditions
Healthy kidneys keep the body working, but some conditions can affect the kidney and make it hard for the kidney to keep the body healthy.
Injured kidney. It's possible to injury a kidney during a traumatic event such as a motor vehicle accident. Kidneys can also get injured by serve dehydration. When a kidney is damaged, it cannot function properly and can lead to swelling of the legs or feet, shortness of breath, confusion, weakness, an irregular heartbeat, or nausea. Some people can heal from a kidney injury without medical help, but it's still important to visit your primary care physician if you experience any signs of an injured kidney.
Kidney disease. Kidney disease occurs when the kidney can no longer filter blood properly. Kidney disease symptoms include nausea, vomiting, loss of appetite, fatigue, changes in urination, high blood pressure, swelling of the feet and ankles, and muscle twitches or cramps. Doctors typically see kidney disease in those with diabetes or high blood pressure, although additional risk factors include smoking, obesity, heart disease, and older age. If left untreated, kidney disease can lead to permanent kidney failure.
Kidney stones. When urine is too concentrated, it can form kidney stones, which are hard deposits inside the kidney made up of minerals that crystalize and stick together. Kidney stones often cause pain in the side, back, lower abdomen and groin, or burning while urinating. Kidney stones hardly cause long-term damage, although they can be painful to pass. Most kidney stones pass through the urine track. However, some can get stuck in the urinary tract and cause an infection, so it's important to talk to your doctor if you're experience signs of kidney stones.
Hydronephrosis. If there's a blockage in the tubes that drain urine from the kidneys, it can cause swelling called hydronephrosis. Hydronephrosis symptoms may not occur, but if they do, you may experience pain in the side, back, or abdomen, pain while urinating, feeling urgent needs to urinate, nausea, vomiting, or fever. If left untreated, hydronephrosis can lead to permanent kidney damage or even kidney failure.
Improving Your Kidney Health
The best way to prevent kidney conditions from developing is to maintain a healthy kidney.
Get physically active. Obesity is one of the leading causes of unhealthy kidneys and many other health conditions such as heart disease and diabetes. Finding ways to stay physically active keeps your weight healthy and reduces your blood pressure. Try to work in at least 30 minutes of moderate exercise each day. You can try walking, biking, swimming, or yoga.
Take control of your blood sugar. Those with diabetes are at a much higher risk of developing kidney damage because the kidneys need to work extra hard to filter the sugars in the blood. If you have diabetes, monitor your blood sugar and talk to your doctors about reducing your kidney damage chances. If you don't have diabetes, take steps to control your blood sugar, such as reducing sugar and refined carbs in your diet, drinking lots of water, and staying active.
Kick poor lifestyle habits. Smoking and excessive drinking are two poor lifestyle habits that cause serve damage to nearly every organ in the body. They are also both addictive behaviors, so if you are struggling to stop drinking or smoking, talk to your doctor about treatment options.
Stay hydrated. Keeping your body hydrated helps your kidneys flush out unwanted toxins and waste. Fill up a large water bottle at the start of the day, and do your best to drink it throughout the day consistently.
How Visiting Angels Can Help
If you or a loved one is living with a kidney condition and needs assistance around the house, the team of caregivers at Visiting Angels Daphne is happy to help. We help seniors with a range of tasks, including light housekeeping, meal preparation, and transportation. We also offer personal care services such as dressing, bathing, and toileting. Our Daphne office serves those in Baldwin County and the surrounding Mobile area. If you'd like to learn more about our services, you can schedule a free consultation online or give us a call at 251.517.9700.