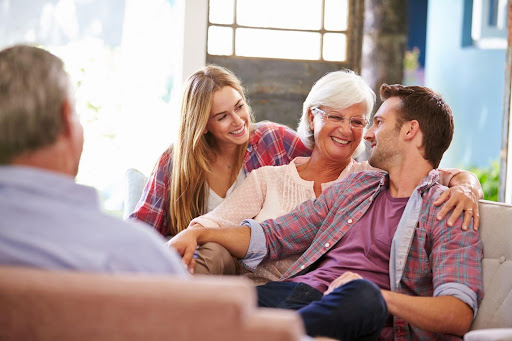 Staying Connected with Your Adult Children
Being a parent is a rewarding experience, but it's natural for the relationship to change as you and your children grow older. You may not feel as close to your children as you did when they were younger, but it's important to remember that it doesn't mean your love for each other is any less. If you're having trouble navigating your evolving relationship with your growing kids, know there are actions you can take to help stay connected with your adult children.
Start with Empathy
You might feel like your adult children ignore you at times, but chances are, your children are not intentionally keeping you at a distance. Think back to when you were starting your adult life. You probably faced many challenging moments as you established a career, relationships, and a family. Try to remember how you felt at that time in your life and empathize with your kids. Through empathy, you can start to connect with your children and learn more about their life as an adult.
Learn About Their Adult Life
You might know the basics of your child's life, such as their job title or address, but how many details do you know? To learn more, ask your children specific questions about what their day entails at work or how they like to spend their free time. Asking questions helps you learn more and opens a conversation for you to share your daily routines and hobbies. Depending on your relationship, it could allow you to share insights about your young adult life and provide your kids with advice for navigating similar situations.
Take the Initiative to Make Plans
If you want to spend more time with your kids, take the initiative to make plans with them. Invite them to join you on a specific outing instead of asking them when they're free or suggesting a vague plan. You can enjoy a meal together, see a movie, or invite them to your home. If your kids have children of their own, suggest an activity the two of you enjoyed when they were younger. Having a specific plan makes it easier for you and your loved one to make time for each other.
Get Comfortable with Technology
Technology is a great way to stay connected with friends and family, and the chances are that your adult children are spending a lot of time on their smartphones, tablets, and computers. Use technology to your advantage to communicate with your kids throughout the week, especially if you don't live in the same area. You can send them a quick text to let them know you're thinking of them. Or you can write them an email if you want to share updates. If you're comfortable, you can also signup for a social media platform such as Facebook or Instagram, where you can share pictures, videos, and updates with each other and other friends.
How Visiting Angels Can Help
If you need helping navigating technology to connect with your children or need transportation assistance to meet up with loved ones in the neighborhood, the team at Visiting Angels Daphne, Alabama, can help. Our compassionate caregivers can also assist with light housekeeping, cooking, medication reminders, transportation to follow-up appointments, personal grooming, toileting, mobility, and more. Our Daphne office serves those in Baldwin Country and the greater Mobile area. If you'd like to learn more about our services, you can complete this form online or call us at 251.517.9700.