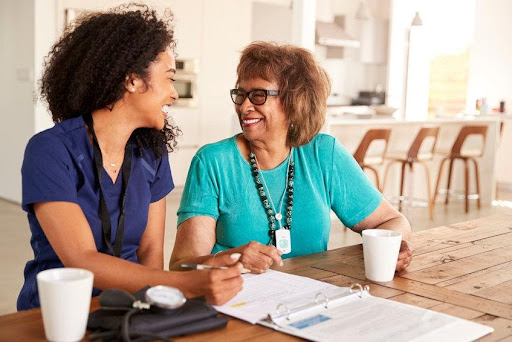 Talking to a Loved One About Caregiving
There comes a time in our lives when we need to have a conversation with our loved ones about caregiving. Sometimes, this conversation comes up naturally as your loved one begins experiencing difficulties around the home. Other times, you may need to approach the conversation with a bit more caution and care. Whatever the situation is between you and your loved one, consider the following when talking to a loved one about caregiving.
Include Your Loved One in the Conversation
Sometimes when we notice a loved one struggling with something, we panic and quickly get them help. Unless your loved one needs immediate attention due to a medical concern or they're unable to make decisions due to cognitive impairment, you don't need to rush hiring a caregiver. Take your time and include your loved ones in the conversation about their caregiving. Not involving your loved ones in their caregiving plans might make them feel like their caregiving is forced on them, which often doesn't result in a positive caregiving experience. By including them in the conversation, you're allowing them to make a choice and keeping them in control of their life.
Ask Questions and Actively Listen
When you're talking to your loved one about caregiving, make sure it's a two-sided conversation. You may have a strong opinion on the type of care your loved one needs, but make sure you're allowing your loved ones to express their thoughts and feelings. Ask them open-ended questions and give them room to answer. You can ask them questions such as "What type of tasks would you like help with?", "What would your ideal caregiving situation look like?" or "What concerns or fears do you have about caregiving?" Asking your loved ones open-ended questions gets them thinking about their caregiving needs and encourages them to share their ideas.
Asking questions is a great start, but it's also essential to actively listen to what your loved one says. If your loved one gives resistance to hiring a caregiver, the questions you ask should help you better understand the root cause of their concern. Make sure you're listening to your loved one to understand, not respond. If you're actively listening to understand, you'll have an easier time developing solutions and compromises.
Consider Their Concerns and Compromise
It's not uncommon for seniors to reject the idea of caregiving when it's first presented. It can feel uncomfortable to accept help and allow a stranger into your home. If your loved one shares concerns about caregiving, consider the circumstances and offer compromises to make your loved one more comfortable. For example, if they're concerned about being alone with a stranger in their home, offer to stay with your loved one during their first few visits until they're comfortable with their caregiver. If your loved one doesn't feel like they need help, suggest hiring a caregiver who only comes over once or twice a week to help clean and make dinner. Remember your loved one's concerns are valid, and there are ways to compromise, so you and your loved one are comfortable with the arrangement.
Find the Right Fit
Caregiving is not a one-size-fits-all solution. When you're ready to hire a caregiver, reach out to a reputable agency such as Visiting Angels to find the right caregiver and caregiving plan for you and your loved one.
At Visiting Angels Daphne, we start all new relationships with a complimentary consultation between our potential clients, their families, and care coordinators. During this initial session, our team will learn about you and your loved one, the kind of care you're looking for, and how often you expect to need care. This session is also an excellent time for you and your loved one to ask questions and learn more about our caregiving services.
After the consultation, our care coordinator will develop a custom care plan specific to your loved one's needs. Next, they'll match your loved one with a caregiver trained in the type of care your loved one needs and who we believe will have a personality that will mesh well with your loved one. We will then finalize a full-time or part-time schedule, and the caregiving can begin, often within 48 hours of the initial consultation.
Our Daphne office serves those in Baldwin County and the greater Mobile area. If you'd like to learn more about our services, you can schedule a free consultation by completing this online form or calling us at 251.517.9700.