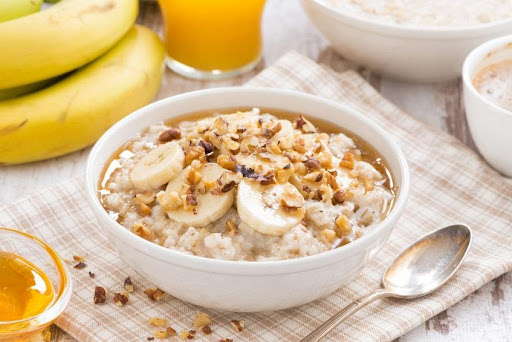 Unique Ways to Spice Up Your Oatmeal
We've all heard how breakfast is the most important meal of the day, but it can be hard to find delicious, healthy, and quick breakfast recipes that won't get boring. January is National Oatmeal Month. If you're looking for new breakfast items to bring into your morning, consider these tasty creations for spicing up your oatmeal this month.
Make it Fruity
If you enjoy starting your day with a sweet treat, add a touch of natural sugar to your oatmeal with fruit!
Mixed Berry Oatmeal
A quick and easy way to spice up your oatmeal with sweetness is to add your favorite berries. Start by preparing your oatmeal by following the directions on the package. Next, stir in ½ teaspoon of cinnamon and ½ teaspoon of vanilla. Then add a handful of your favorite fresh berries such as blueberries, strawberries, raspberries, and blackberries. Top your oatmeal with a bit of granola and enjoy.
Oatmeal with Caramelized Bananas
If you're not a fan of berries, try topping your oatmeal with slices of caramelized bananas. Start by making a bowl of oatmeal according to the package. While the oatmeal is cooking, you're going to caramelize your banana. First, cut the banana into bite-size coins. Then, lightly coat the banana coins in sugar. Heat a nonstick pan on medium-high heat once you've covered the banana pieces. Place the banana coins into the pan and cook them for about five minutes or golden brown. Flip each piece so both sides are golden, then add the bananas to your oatmeal. Let the banana cool before you eat.
Make it Savory
If you like a savory start to your day, try one of these delicious oatmeal options.
Poached Egg Oatmeal
If you like eggs but don't feel satisfied with just eggs, try adding a poached egg to your oatmeal. Cook your oatmeal according to the package, then add a dash of salt and pepper to test. Next, poach an egg and place the poached egg on the oatmeal. Break the yolk and stir everything together. Poaching an egg can be challenging, so if you're having trouble not breaking the yolk while cooking, you can add a fried egg or scrambled eggs to your oatmeal.
Sausage and Veggie Oatmeal
Add some sausage and vegetables to your morning oatmeal if you enjoy breakfast meats. Cook the oatmeal according to the package, then set it aside. Next, cook ½ pound of mild or spicy Italian sausage over medium-high heat until meat is thoroughly browned and cooked. Pour the sausage into a bowl and set aside. In the same pan, add a tablespoon of butter and ½ cup of chopped onions, and ½ cup of chopped celery. You can also add other favorite vegetables such as carrots, peppers, or broccoli. Cook the vegetables until they are tender, then add the meat back to the pan. Simmer everything for about one minute, then remove the pan from the heat. Add the desired amount of sausage and veggies to your oatmeal, and enjoy our savory breakfast.
Do you or a loved one need help to prepare oatmeal and other meals at home? The team at Visiting Angels can help. Professional caregivers with Visiting Angels can assist seniors with grocery shopping, meal preparation, and cooking. Our compassionate caregivers can also assist with light housekeeping, medication reminders, transportation, personal grooming, toileting, mobility, and more. Our Daphne office serves those in Baldwin Country and the greater Mobile area. If you'd like to learn more about our services, you can complete this form online or call us at 251.517.9700.