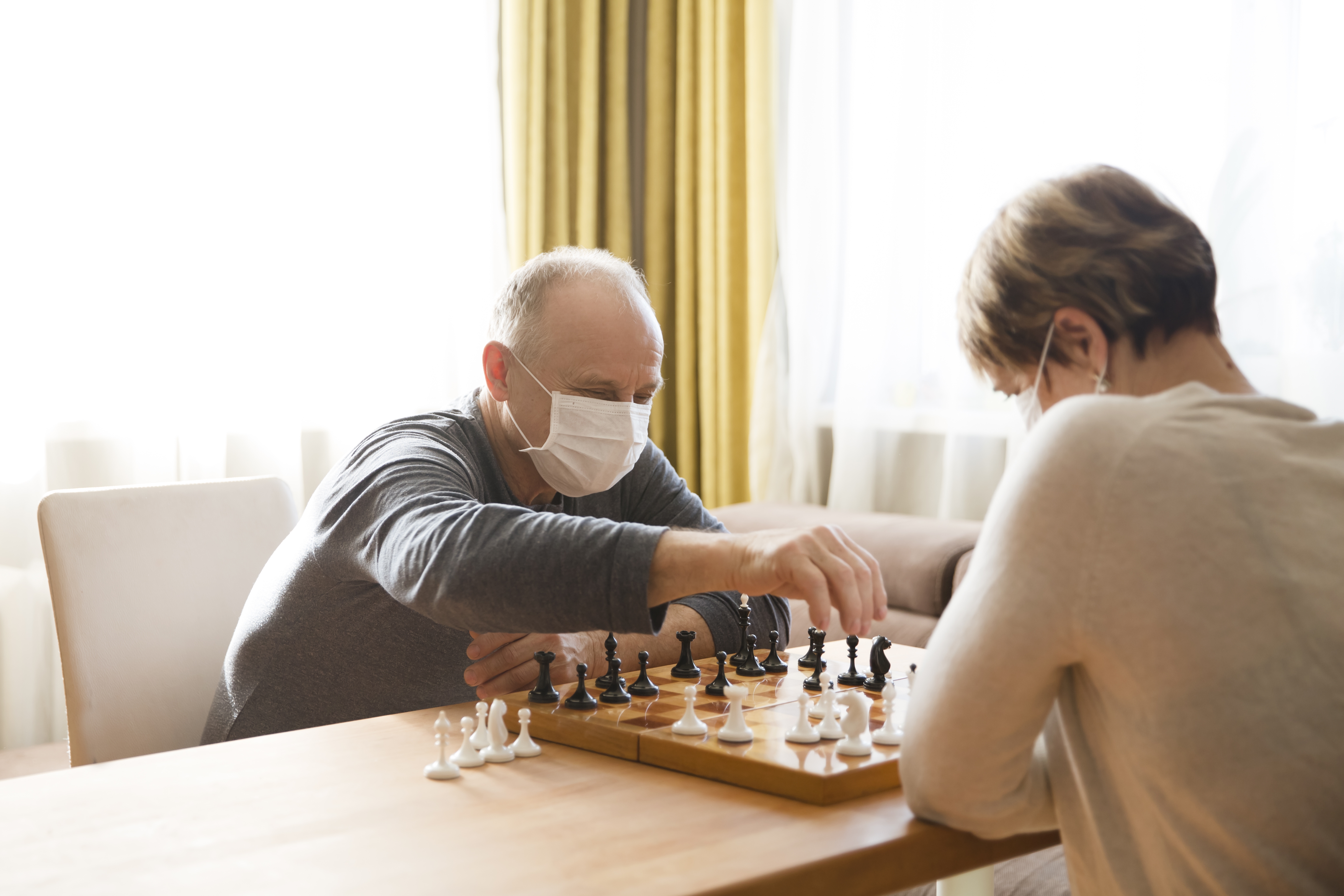 How Chess is Used in Companion Care to Benefit Seniors in Conway
Visiting Angels of Conway believes that there are many health benefits that result from seniors playing chess and strongly encourages its clients to partake in this game to improve mental, emotional, social, and physical health.

Improved Brain Function
The benefits of chess are many. The game can be played to improve cognitive function in seniors. It is beneficial to seniors because it helps them maintain strong memories, which often begin to fade as people get older. Chess improves cognitive function by requiring players to memorize various moves and the outcomes of each move. In 2015, a study was performed that deduced that chess players are more likely to have the ability to recall things that they have seen or heard. The subjects of the study were read, out loud, a list of random words and were later asked to recall them. Chess players were able to remember more of the words than non-chess players.

Social Interaction
The game encourages social interaction because it involves two opposing players. Many seniors live alone, so having time with someone in which they can play a game is important in reducing loneliness. Now, especially with COVID-19, many seniors are confined to their homes since their aging bodies are less able to fight off the virus. Thanks to technology, they are still able to connect with loved ones and play chess and other games via the internet.

Improved Mental, Emotional and Physical Health
Brain games like chess have been proven to have a positive impact on the emotional health of seniors as well. Reductions in stress, anxiety, and depression are proven results of playing these games. By refocusing their minds, seniors are able to divert their attention away from the struggles and challenges that they are facing. Because of this, their physical health is positively impacted. It lowers the risk of diabetes, obesity, heart disease, and blood pressure. It also helps to improve sleep.

Improved Health and Wellness from Learning a New Skill
Chess involves a great deal of critical thinking which helps keep the minds of seniors young. People who play chess have been shown to have higher intelligence levels and faster processing speeds due to the intense amount of thinking that one has to do while playing the game. We at Visiting Angels of Conway are very encouraging of our clients playing chess and other mind games so that they can reap the many benefits they offer.
To learn how Visiting Angels of Conway can assist with companion care services for your loved one, contact us at (501) 381-1630.