In Home Care in Corpus Christi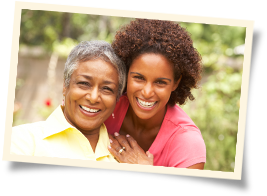 Is Your Loved One Lonely?
The unfortunate truth is that loneliness and depression are very common among seniors, particularly those who have just lost a spouse or friend. These emotional issues can even have an impact on their physical well-being, with studies linking isolation to a higher risk of dementia, cognitive decline, heart disease, and other terrible ailments. With our in home care, Visiting Angels® Corpus Christi is here to provide a kind and compassionate solution.
Our caregivers deliver support and companionship into your relative's home. They will be there to tend to their daily needs and make sure they always have someone to talk to. By providing a warm, attentive presence, we can help them avoid feelings of isolation and retain a more positive mental state. This will lead to stronger overall health and a better outlook on life.
The Benefits of Our In Home Care in Corpus Christi
With our in home care, your relative will have the presence of a good listener who tends to their needs and keeps them company. We can help to create a safer, happier home environment, which saves them from the need to move into an assisted living facility. Such a move often increases loneliness and isolation even further, so helping them maintain an extended home life is a terrific advantage. Additional benefits of our compassionate service include:
Trusted assistance with various tasks around the home
Customized care to target their specific needs
Loving companionship from a friendly person who cares about them
Social interactions to maintain a sharper mind
A safe, comfortable, and familiar home setting
Additional care including: bathing and grooming help, walking aid, errands, and more!
In Home Care From Trusted Caregivers
As a loving family member, you obviously want the best for your parent or relative. However, it's not easy to provide the level of consistent companionship they need on your own. We are proud to offer support to local families, delivering trustworthy and respectful care and companionship. With our help, your loved one will always have a warm, loving presence around their home.
We offer this service across:
Corpus Christi
North Padre Island
Rockport
Portland
Calallen
Port Aransas
And throughout the nearby communities of the Coastal Bend
To begin with a care consultation and discover more info about our in home care, contact Visiting Angels Corpus Christi & the Coastal Bend today.