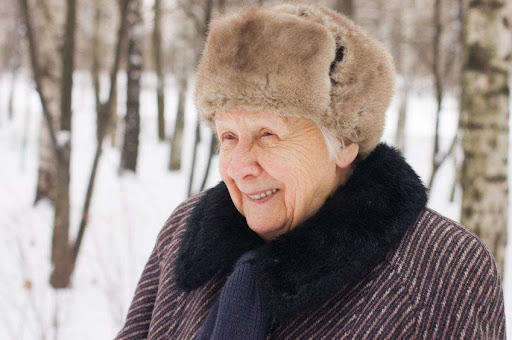 Cold weather safety for seniors
Oh, the weather outside is frightful! The winter is not a pleasant time for many people, but it poses additional risks for seniors. Cold sensitivity increases with age, and the body's slower reaction time or decreased ability to warm itself up can pose serious health risks for seniors.
Why am I so cold?
According to experts at Providence, there are a few key reasons based on natural age-related changes in the body that contribute to why older adults are more sensitive to the cold:
Metabolism slows with age. It's normal for your metabolic rate to decrease, and along with it, your body's response to the cold. Certain receptors in the body may not be as quick to tell your blood vessels to constrict and maintain your body temperature.
The fat layers under the skin start to thin. This fat layer conserves body heat, so you're more likely to feel cold when it starts to thin.
Your blood vessels lose elasticity. When your blood vessels aren't as flexible, your circulation decreases. When your blood doesn't circulate normally, it's harder for your body to retain heat. This can cause your hands and feet to feel cold—a sensation shared by all ages who experience poor circulation.
Complications add to the chill
Aside from natural aging, chronic disease can also make the cold less bearable. Conditions like diabetes, peripheral artery disease and kidney disease can restrict blood flow and lower body temperature.
Kidneys filter waste out of your blood, but that process is disrupted with kidney disease. When waste builds up in the body, your core body temperature can decrease.
Kidney disease can also cause anemia. In anemics, oxygen-packed red blood cells congregate to important organs, such as your brain, kidney or heart. This can leave skin, hands and feet feeling cold due to less blood flow and oxygen in those parts of your body.
Certain medications can also cause an extra chill, such as medication to lower blood pressure, which often causes cold hands and feet due to less circulation to extremities.
Tips for staying safe
According to the National Institute on Aging, a body temperature of 95°F or lower in an older person can cause many health problems, such as a heart attack, kidney problems, liver damage, or worse. To combat the cold, Winter chill, make sure to do the following:
Set your heat to 68–70°F at the very least. Close the vents, shut the doors in rooms you are not using, and keep the basement door closed to save on heating bills. Place a rolled towel in front of all doors to keep out drafts.
Wear loose layers of clothing. The air between the layers helps trap warm air from your body. This keeps you much warmer than tight-fitting clothing.
Your body loses significant heat through your head and neck, so be sure to bundle up with a hat and scarf when leaving the house.
Change your clothes right away if they are damp or wet.
Hypothermia
If body temperature dips below 95°F, hypothermia may occur. Look for these clues in yourself or a loved one in a cold environment. If you suspect yourself or a loved one is experiencing hypothermia, call 911 right away.
It is easy to become confused during hypothermia, so it may be harder to recognize in yourself. Symptoms include:
Cold feet and hands
Puffy or swollen face, pale skin
Shivering (in some cases the person with hypothermia does not shiver)
Slower than normal speech, slurring words or acting sleepy
Being angry or confused
Moving slowly, trouble walking, or being clumsy
Stiff and jerky arm or leg movements
Slow heartbeat and slow, shallow breathing
Loss of consciousness
Visiting Angels Crystal Lake offers caregiving services to assist you or a loved one through the Winter weather. Caregivers can assist with the adjustments to your home mentioned above and the indoor temperature management. Our compassionate caregivers are also there to help with getting dressed and can ensure that you are comfortable and at a warm, comfortable temperature. Reach out today to discuss your caregiving needs in Crystal Lake, McHenry, Woodstock, Cary, Barrington, Algonquin, Palatine, Lake Zurich or the surrounding areas at (815) 479-0312.