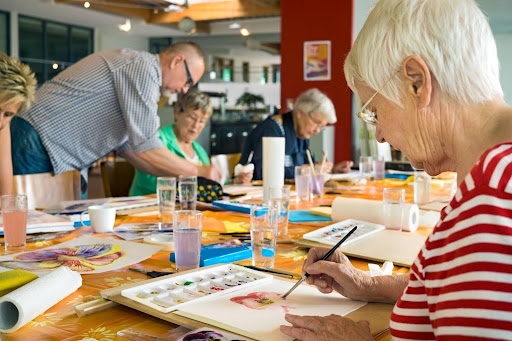 Crafting with Seniors
Creative activities have been shown to have a positive effect on both physical and mental health. Research has found that creative expression gives seniors a sense of purpose, maintains their coordination and concentration, and improves their mental health. And for those seniors with dementia, Parkinson's disease, and other chronic degenerative diseases, participating in creative activities can reduce anxiety and depression. At Visiting Angels of Crystal Lake, we match our clients with professional caregivers that do their best to ensure the mental and physical health of their clients. Call us today at (815) 479-0312 to find the right Angel for your family.
There are many benefits to arts and crafts for seniors. Creativity can lead to feeling relaxed and in control. It is fun and encourages risk-taking (with no risk!) to produce something that can be a gift or just something bright for the home. Another benefit of art and crafting is improved cognition and memory.
Completing projects can help with self-esteem and strengthen their sense of identity. Having a caregiver on hand helps eliminate frustration and can navigate planned projects to their end (or help decide to abandon any project that seems overwhelming or is not as simple as it seems).
Here are some ideas for fun crafts that can be done with seniors:
Decoupage
Découpage is a fun, calming and soothing papercraft that anyone of any age and ability can enjoy. involves cutting out pictures, gluing them to an object and then coating the pictures and the object with layers of varnish. The finished item can look so beautiful that it appears to be professionally painted. The tools needed are simple: a box, bottle, or frame that needs an upgrade; ModPodge™ or other découpage glue; some pretty paper, old greeting cards, or magazines; scissors, and a set of foam brushes to start. Check out this project to get started découpaging.
Painting
Painters say that it is relaxing to grab their paint brushes and paint away. It can be an escape from real life, as well as an integral part of memory care. Painting on canvas or art boards keeps an older person's brain sharp – they have to tap into their creative brain to create an art form. Besides being a form of creative expression, painting requires someone to use their hands. Simple drawings and brushstrokes can help increase hand-brain coordination and agility. Seniors can try their hand at oil paints on canvas, watercolors on paper, or acrylics in paint-by-numbers projects. For those looking for a fun, no risk medium, try painting rocks and sharing them with the grandchildren. The rocks may find themselves on a journey one day!
Knitting and Crocheting
For seniors who have knitted and crocheted in the past, they may just need a reminder to get going on a favorite activity. The fine motor dexterity of knitting and crocheting stimulates the brain and can improve symptoms of dementia. Just finding out if they have yarn, unfinished projects, patterns that never got started can be a wonderful mind jogger to the latent talent of your loved ones. And if they haven't started the habit, it's not too late. This article by Edie Eckman offers tips on teaching elders to crochet and knit and there are even special tools available to ensure that loss of dexterity doesn't mean the loss of a creative outlet.
Collaging
Collaging also is a wonderful, inexpensive way to prompt conversation while inspiring creativity and keep hand-brain coordination healthy. A piece of cardboard, weekly grocery newsletters, scissors, and glue are all that is needed to begin this project. The nice thing about collaging is that it makes for an easy clean-up whenever your loved one is ready to call it a day.
Connecting with Visiting Angels
Visiting Angels Crystal Lake can provide caregivers to help keep your loved ones mentally sharp or expand their days by including creative activities. When you need help to engage elders in your family, call (815) 479-0312 to find out more about how our Angels can improve your family's life.