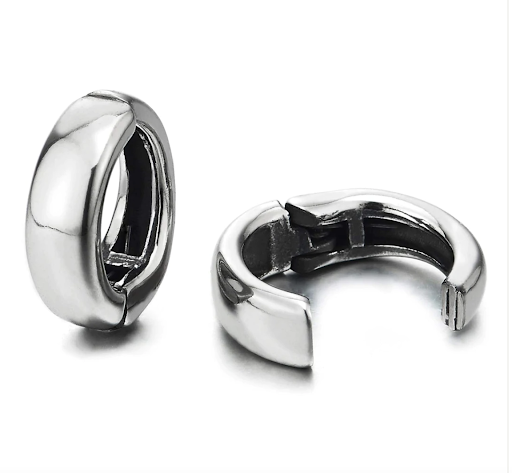 Jewelry Options for Seniors
A piece of jewelry can completely transform an outfit. Whether it's a necklace, chain, or ring, many pieces add individuality and flair. With aging, it becomes more difficult to find jewelry pieces that are both comfortable and safe. Jewelry can cause rashes and irritation on senior skin due to the sensitivity and fragility of their skin.
The good news is that there are many options for clip-on jewelry, as well as jewelry made from materials that are kind to sensitive skin. We compiled a list of senior-friendly jewelry after much research. Both men and women can enjoy these choices.
Oval Huggie Earrings
Huggie earrings are great because they are simple to wear and can be worn by both men and women. They come in a variety of colors and prices. This pair of Polished Oval Huggie Hinged Hoop earrings is available from 1 More Earrings. They come in a silver color and are available for a low price of $20.99.
We found these Clip-on Gold Hoop earrings from Eara if the senior prefers gold rather than silver. They are gold-plated and lightweight, which makes them ideal for seniors.
14-Carat Gold Necklace
Some necklaces tend to turn the skin green or irritate it. Therefore, seniors should choose a necklace made from a nice material. The cost may be higher, but they will last a long time and won't cause irritation.
Many jewelry options are available for sensitive skin, including this 14-carat gold cubic zirconia necklace from Ana Luisa. It is made for women, but is simple enough to be worn by men as well.
Furthermore, this Vitruvian necklace from Crafted can be worn by both men and women due to its androgynous design. It is resistant to water, heat, and sweat, as well as being made not to tarnish. In essence, this piece is designed for long-term wear, which is ideal for seniors who rarely change their jewelry.
In addition, this Mountain Range Diamond Pendant necklace is ethically sourced and made with genuine diamonds. The piece is made by Brilliant Earth and can be worn by either men or women.
Simple Bracelets
A bracelet is a great accessory because it can be worn with almost any outfit and is often very simple. As bracelets are easy to lose, seniors should choose bracelets with clasps to ensure they don't go missing.
Both men and women will appreciate this simple titanium bracelet from Etsy. The bracelet is designed for people with sensitive skin, and the preferred length can be selected when checking out.
Another great choice is this sterling silver bracelet from Amazon. It is hypoallergenic and very gender-neutral. Sterling silver will not irritate the skin, so this brace is perfect for seniors with sensitive skin.
Jewelry can be a way for seniors to express themselves, and certain pieces can evoke happy memories from their past. At Visiting Angels Crystal Lake, IL, we want our clients to look and feel their best! We enjoy assisting our senior clients with their daily activities and that can include selecting an outfit and jewelry for the day. If your senior loved one could use some help at home, please call us at 815-479-0312 for a complimentary care assessment.