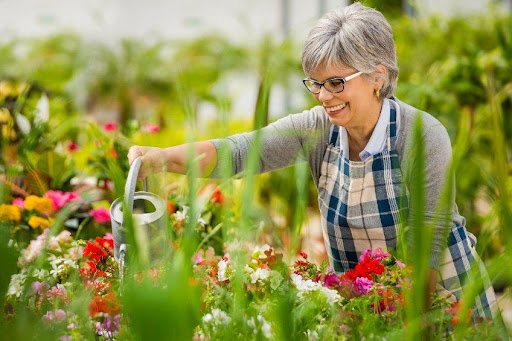 The Benefits of Gardening
There's something magical about planting a seed and watching it grow. From something so small it's a mere speck in your hand to a fully mature plant, the wonders of nature never cease. It's even more incredible when you consider the part you can play in that cycle of life. No matter if you're an experienced green thumb or are just excited to learn about growing your own plants, there are some major benefits to spending time out in the garden.
Fresh Air and Sunlight
The moment you step into the garden, you start reaping its benefits. Before the first plot of soil is tilled or the first seed planted, simply being outdoors offers fresh air and sunlight. Exposure to sunlight is one of the primary ways our bodies get vitamin D, a key nutrient necessary for absorbing calcium that helps keep bones healthy. When sunlight hits our skin, a reaction occurs that causes vitamin D to form. Fresh air has its own health-boosting effects, too. If you live in an indoor environment that doesn't have the best air circulation, getting outside lets you breathe freely circulating air that can be cleaner than what's indoors.
It's Fun to Learn
If you've never gardened before or have limited knowledge of growing your own plants, learning a new skill is an enjoyable, fulfilling experience. And even experienced gardeners can always find something new to learn or a novel trick to pick up that makes their time in the garden more rewarding. Different plants require their own unique care and growing conditions, such as soil depth, moisture levels, proper spacing and other factors. Learning about each variety of plant you're attempting to grow and how to properly tend to it is all part of the fun.
You'll Get Some Exercise
While you can toss some seeds on top of the soil and hope they germinate, in all likelihood, that's not going to work. Gardening requires some effort, and that effort has a benefit not just to your plants but to you as well. From tilling the soil to watering up and down the rows of newly planted seeds, gardening is a terrific way to get your daily dose of aerobic exercise. It's also something that you can make a daily habit, and because gardening requires patience, the hobby lets you do it at your own pace.
It Can Benefit Your Mind
Your body isn't the only part of you that will be grateful for time spent in the garden. A study from 2006 found a 36% lower risk of dementia among people aged 60 and older who spent time in the garden every day. Working the soil can also improve your mood and create lasting benefits to those who suffer from depression, and it also helps reduce stress levels. Being out in the sunlight instead of a dimly lit room also works wonders for people, and it can become a daily ritual to look forward to.
You Can Garden With Others
One of the great parts of being a gardener is that it's an entire community, and you rarely have to do it alone. While you may want to have your own personal garden, there are also community gardens in many areas that allow people from all walks of life to contribute. The hobby offers a chance to get out and socialize while building new connections and learning a few tricks of the trade. It's also a wonderful activity for caregivers and older adults to participate in together.
Harvest Time Is Rewarding
If you're planting vegetables in the garden, harvest time has a special significance. It's the chance for all your hard work and dedication to pay off. To know that the food you're preparing came straight from your own soil and labor makes the meals you prepare that much more significant, and on a practical note, everything you plant and eat from your garden is something you didn't need to shop for at the grocery store.
Conclusion
The best part about gardening is that anyone can do it. No matter your experience level, there's always a starting point, and if it's a hobby that has you interested, the caregivers at Visiting Angels Crystal Lake make great companions and helpers as you learn the craft. To learn more about the services we provide, please call 815-479-0312 today!