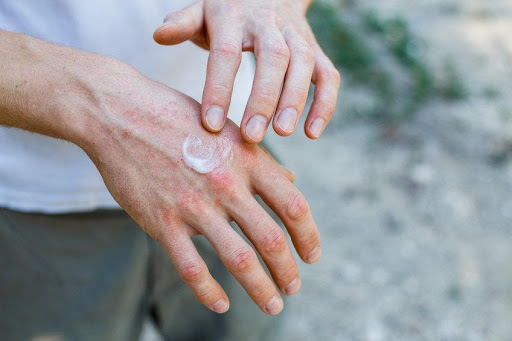 Understanding Psoriasis
Do you experience chronic dry and itchy skin that doesn't seem to go away no matter how much you moisturize? If so, you may have psoriasis, a common skin condition that causes itchy, flakey, and sometimes painful patches on the skin. August is Psoriasis Action Month, making it the perfect time to learn about psoriasis and start a conversation with your doctor if you are experiencing psoriasis symptoms.
What is Psoriasis?
Psoriasis is a skin disease believed to be caused by a problem with the immune system. There are a few different types of psoriasis, the most common of which is plaque psoriasis which causes dry patches of red scaly skin. These patches of skin can feel tender or itchy. It typically appears on the elbows, scalp, knees, and lower back.
Some people with psoriasis don't show symptoms or are not present until they are triggered. Some common psoriasis triggers are weather, stress, smoking, heavy alcohol consumption, certain medications, infections, or injury to the skin. Those with psoriasis are at significant risk of developing psoriatic arthritis, Type 2 diabetes, high blood pressure, cardiovascular disease, depression, and autoimmune diseases.
Types of Psoriasis
Guttate Psoriasis
Guttate psoriasis appears as droplet-shaped patches on the skin. It's most common on the arms, legs, and scalp. It's most common in children and young adults under the age of 30. A respiratory or viral infection usually triggers a flare-up of guttate psoriasis. According to the National Psoriasis Foundation, guttate psoriasis accounts for about 8 percent of those living with psoriasis.
Inverse Psoriasis
Inverse psoriasis, also called hidden psoriasis, affects the skin folds or areas where the skin rubs together. It usually appears under the arms and breasts or on the groin or inner thigh. Common triggers of inverse psoriasis include medicines, infections, stress, tobacco use, and friction on skin folds. Inverse psoriasis accounts for 21-30 percent of psoriasis cases.
Pustular Psoriasis
Pustular psoriasis is when pus-filled bumps appear on the skin, often surrounded by red or inflamed skin. There are three different types of pustular psoriasis depending on where the symptoms appear: general pustular psoriasis, localized pustular psoriasis, and acropustulosis pustular psoriasis. Pustular psoriasis triggers include medications, infections, pregnancy, stress, and too much exposure to ultraviolet light. Pustular psoriasis affects about 3 percent of those with psoriasis and most often develops in older adults.
Erythrodermic Psoriasis
Erythrodermic psoriasis is a rare type of psoriasis that only accounts for about 2 percent of psoriasis cases. It affects the entire body and, if not treated, can be life-threatening. Erythrodermic psoriasis changes the body's temperature and fluid balance, leading to swelling in the feet, ankles, or other parts of the body. Contact a medical professional immediately if you're experiencing redness or shedding on a large portion of your body with severe itching and pain.
Nail Psoriasis
Nail psoriasis develops on the nail, causing dents, discolorations, and crumbling of the nail. It can also cause the nail to separate from the finger or toe. If left untreated, nail psoriasis can cause infection.
Psoriatic Arthritis
Psoriatic arthritis is a type of arthritis that affects people with psoriasis. It usually develops between the ages of 30 and 50 and causes fatigue, tenderness, stiffness, reduced range of motion, and changes to the nail. About 30 percent of those with psoriasis have psoriatic arthritis.
Plaque Psoriasis
Plaque psoriasis is the most common form, accounting for 80-90 percent of psoriasis cases. It can develop anywhere on the body, but it's most common on the knees, elbows, scalp, and torso. It appears as scaly patches on the skin and is usually itchy or painful. Common plaque psoriasis triggers include medications, infections, stress, skin injury, and tobacco use.
How Visiting Angels Can Help
If you or an aging loved one is living with psoriasis or another condition that makes daily tasks challenging, the caregivers at Visiting Angels Cullman could help. Our caregivers provide light housekeeping, meal preparations, medication reminders, transportation, personal grooming, and more. Our Cullman office serves those in Cullman, Etowah, Walker, Marshall, and Blount counties. To learn more about our services, you can complete this online form or call us at 256.734.6600.