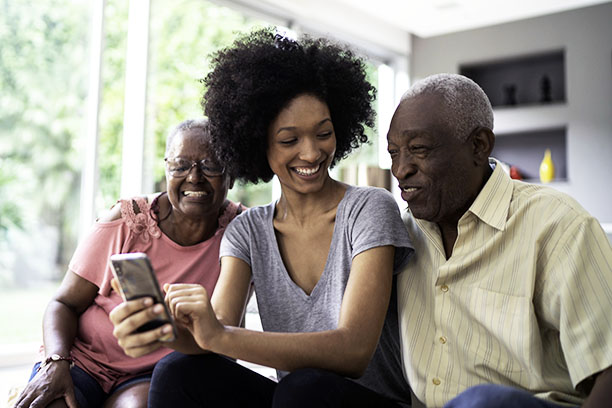 Introducing Our in-Home Care Services: Social Care in Cullman, AL
In-home care services from Visiting Angels help seniors in Cullman, AL stay connected with loved ones through the use of digital platforms
At Visiting Angels in Cullman, AL, we know that seniors require more than physical care to maintain a happy, independent lifestyle as they age in the comfort of their home. That is why our social care program is based on a holistic caregiving approach, which includes care for the entire person. By making the most out of modern technology, we offer our social care program for seniors in Cullman, allowing them to stay connected with their friends and family via social platforms like Facebook, Skype, FaceTime, and more.
The Benefits of Social Media for Seniors in Cullman
Recent studies have shown that using social media in senior years come with a plethora of benefits. Namely, one study reports that just surfing the Internet on a regular basis can reduce senior depression by 20%. A study conducted at the University of Arizona finds that older adults who regularly use Facebook for communication and entertainment show a 25% improvement in the so-called mental updating skills, this boosting their working memory. According to another study, seniors who use social media sites enjoy a positive emotional experience when measured by brain stimulation, breathing rates, and pupil dilation.
Backed by science, our social care program can make a real difference in your loved one's life. This program consists of carefully developed in-home care services that can teach your loved one to independently use the Internet and thus minimize the risk of senior loneliness, isolation, stress, anxiety, and more. Using technology can have a huge effect on your loved one's well-being, not to mention that it can allow them to communicate with others and continue with their hobbies and interests regardless of their health condition, mobility issues or other factors that may make it difficult for them to socialize in real life.
How Our In-Home Care Services Help Your Loved One Stay Connected
Our social care program consists of the following services:
Teaching your loved one how to use a cell phone

Showing your loved one how to text, send emails, and use Skype/FaceTime

Helping your loved one create their Facebook account/page and talk with friends and family

Explaining to your loved one how to shop, find information, and stay entertained online
If you would like to learn more about our in-home care services in Cullman, AL, please contact our local office today. We are happy to answer all your questions regarding social care and how it can benefit your loved one.
Serving Cullman, Etowah, Walker, Marshall & Blount Counties
Visiting Angels
CULLMAN, AL
207 4th St SE #A
Cullman, AL 35055
Phone: 256-734-6600
Fax: 256-734-6616