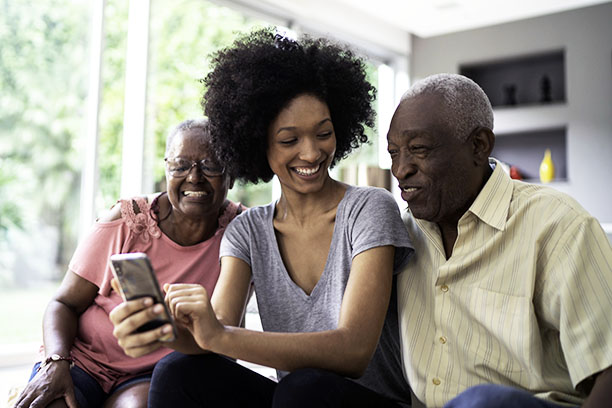 Social Care from a Visiting Angels of Danvers, MA Caregiver
Our Caregivers Teach Seniors About Technology in Danvers, Peabody, and Surrounding Areas
During our extensive experience in the home care industry, we have realized that the key to providing quality senior care is maintaining a holistic view. At Visiting Angels of Danvers, we believe that holistic care caters to the individual. Physically, spiritually, mentally, and socially; each avenue of care is equally as important. This is one of the many reasons why we prioritize social care for our clients.
Technology moves at the speed of light. It seems like every day a new device or application becomes the new normal for communication. It can be difficult to keep up, especially if you're a senior. During our Social Care Program, our caregivers teach local seniors how to utilize modern technology for their benefit. With our assistance, they can easily socialize with friends, family, and their local community.
Recent studies have shown that technology benefits seniors in a variety of ways. The studies include:
A Washington D.C. based research organization found that surfing the internet can reduce depression in Seniors by 20 percent.*

A University of Arizona study revealed that seniors who use Facebook showed a 25 percent improvement in mental "updating" skills. This improves their working memory.

Seniors who visit social networking sites like Facebook have a positive emotional experience when measured by breathing rates, brain stimulation, and pupil dilation, according to the Cyberpsychology, Behavior, and Social Networking journal.**
How Our Social Care Helps Seniors
From cell phones to social media, our caregivers within our Social Care Program help seniors navigate the world of technology. For example, we often teach our clients about navigating the popular social media website Facebook. With 2.5 billion active users visiting Facebook every month, it's often the perfect platform to help seniors socialize. We help clients create a Facebook account, connect with friends and family, and send messages.
Want to learn more about our social care program? Contact our offices today to schedule a free in-home consultation.
Because of this program, I was able to experience two of the greatest joys in life – becoming a grandmother and seeing my son become a new father. Skyping and Facebooking with my son and his family are now a normal part of my life. It helps me feel like I'm still an important part of their lives even though I'm miles and miles away.

* Washington, D.C. based Phoenix Center
** Journal Cyberpsychology, Behavior, and Social Networking
Serving Boston's North Shore and the Surrounding Area
Visiting Angels
DANVERS, MA
85 Constitution Ln #2D
Danvers, MA 01915
Phone: 978-774-7400
Fax: 978-774-7410