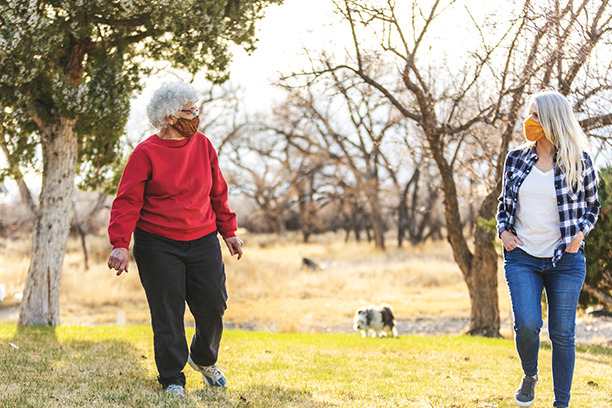 Home Care Services in Roy
It's no secret that as we age, we become increasingly susceptible to falling. Injuries from falling can also become steadily more serious, with a surprising percentage resulting in death. At Visiting Angels® Santa Barbara County, we take falls seriously. That's why we developed an integrated approach to fall prevention as part of all our home care services in the Roy area.
A quality fall safety program begins with risk assessment:
The first thing to do is talk with your loved one's doctor and ask about their risk. Inquire if any medications they're on might cause dizziness or drowsiness. Ask for any necessary referrals to specialists like podiatrists or physical therapists. Report any prior falls.
Encourage your loved one to make gradual lifestyle changes that incorporate some form of exercise. Try to improve muscle strength and balance. Start slow and easy and work toward small, achievable goals.
Finally, make a thorough and formal assessment of your loved one's home environment and circumstances. That's where we can help.
At Visiting Angels Santa Barbara County, beginning with our initial, complimentary fall-risk assessment, we incorporate fall safety into all our Roy-area home care services. Our Safe and Steady fall prevention program consists of comprehensive measures that we can help you achieve.
Beside our thorough assessment process, our home care provides a myriad of ways for your loved one to remain in their home safely. Our trusted and compassionate caregivers can assist with everyday tasks that require reaching, stair climbing, and operating in tight spaces. We can also help with personal services such as safe bathing and dressing, walking, and more. Your loved one will feel confident, knowing some of the riskier jobs are being handled. They'll also have someone to take them out and assist them with errands or just experience the outdoors again with a friendly companion.
Home Care Services in Roy That Are Local
We are a locally owned and operated in-home care provider. In addition to home care services, we provide many other services to seniors in the Roy area, including palliative care, dementia care, Alzheimer's care, and other specialty programs. We service aging adults in the following nearby areas:
Roy
Layton
Bountiful
Ogden
Riverdale
Centerville
And the surrounding area
Schedule Your Free Consultation
If you have any questions about our home care services in Roy, please reach out to Visiting Angels Davis-Weber today to schedule a no-cost, no-obligation consultation in the comfort of your loved one's home. Our consultation includes a free and thorough fall-risk assessment and valuable information about fall prevention.
Serving Davis and Weber Counties
Visiting Angels LAYTON, UT
1649 Antelope Dr #370
Layton, UT 84041
Phone: 801-820-5874
184 E 500S
Bountiful UT 84010
Phone: 801-820-5874