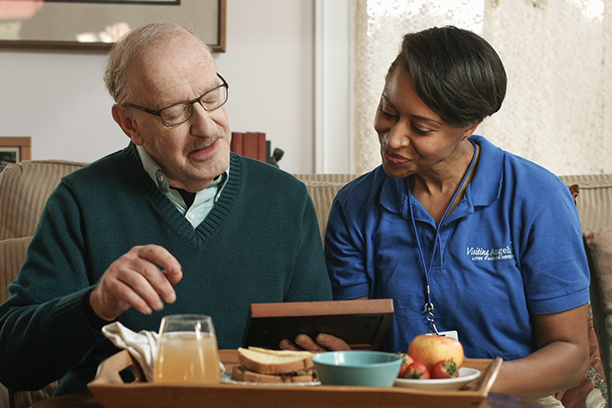 Home Care in Sycamore
A home care solution can help put your family at ease while allowing your loved one in Sycamore to experience a better quality of life. At Visiting Angels® DeKalb, we frequently encounter families who worry about the well-being of an elderly parent or grandparent but know they want to remain at home. With the option of customized home care, older individuals can continue living as they please well into their twilight years.
More About Our Home Care Services
Home care isn't only concerned with helping seniors who have mobility problems or memory disorders stay safe. Our senior care providers in the Sycamore area also focus their energy on helping their care recipients feel at ease. We make your loved one's quality of life our priority, giving them social and emotional care as well as the physical aid they may need to finish essential tasks in and outside of the home.
Since every family we work with is different, we make variety and personalization an integral part of our caring offerings. See the list below for just a handful of the types of care we can provide for your loved one either now or as their needs advance in the future:
Dementia care or Alzheimer's care. Our memory care services are adjusted according to various diagnoses and symptoms.
Transitional care. We help families find peace of mind during the process of hospital discharges and also as the senior continues to recover from a hospital stay at home.
Personal care. Our personal care includes the physical assistance many elderly adults require while coping with a chronic condition or living with a mobility limitation.
Companion care. We give seniors much-needed companionship to enrich their everyday lives while also ensuring they receive assistance as they go about basic activities.
Social care. Does someone in your life struggle to maintain social contact due to difficulty with technology? Our social care program includes instruction on fun online tools delivered by a kind and patient caregiver.
Get Started With Home Care in Sycamore
You can look forward to having a positive experience of getting started with care and helping make your loved one's life at home easier. To begin, call our office and ask to schedule a complimentary consultation in:
Sycamore
Campton Hills
Cortland
Dekalb
Dixon
Peru
Genoa
Hampshire
La Salle
Marseilles
Mendota
Pingree Grove
Rochelle
Rock Falls
Sandwich
Sterling
Streator
Or a community in the surrounding areas
Call Visiting Angels Dekalb today for a free home care consultation in Sycamore!
Serving the Communities of DeKalb, Ogle and Lee Counties in Illinois
Visiting Angels
DEKALB, IL
3266 Resource Pkwy
DeKalb, IL 60115
Phone: 815-895-0200
Fax: 815-895-0300