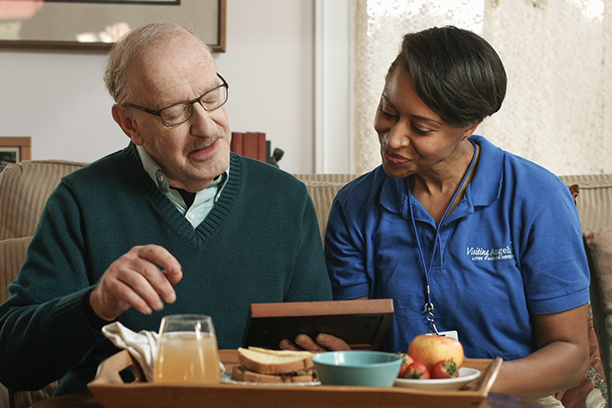 Here are 6 Steps for Successfully Working with Mom or Dad's Caregiver
Hiring a caregiver for your loved one is challenging.
You need to research the options…convince Mom or Dad that they really do need outside help…get answers to your questions and concerns…find the financial resources, and more.
Once you've made the decision to start home care services, your focus will be on the elder/caregiver relationship…how well the caregiver gets along with, and cares for, your loved one, and the caregiver's ability to perform their assigned duties.
As the person who hired the caregiver, you have high expectations for this relationship, and rightfully so. While success depends largely on the caregiver's performance, you have an important role in this process, too.
Here are 6 things that the client/boss should do that will help build and maintain a successful elder/caregiver relationship.
One decision maker. One person should be providing direction and instruction to the caregiver. (If there is a team of family members, they should convey consistent messages to the caregiver.) Too many conflicting messages often lead to confusion and stress. Seniors and caregivers work best in an environment that is free of conflicts.
Think about the schedule. How many days a week is care needed? How many hours per day? Mornings, afternoons or evenings? During our free home assessment, think about the ideal schedule, based on the level of care required, the elderly person's needs, your own schedule, etc.
Have necessary supplies available. Before service starts, ask what supplies the caregivers needs for them to help the senior with activities of daily living. In addition to food and cooking supplies, that could mean detergent, brooms and other household cleaning tools, body soap, sponges, towels, rubber gloves, extra adult diapers if necessary, etc.
Allow the caregiver to do the jobs they are being paid to do. You might be surprised how often a client will say, "I'll do it when I get back home" when a caregiver offers to wash dishes or put a load of clothes in the washer or dryer. Good caregivers prefer to keep busy. Let them.
Requesting services that we don't provide is a no-no. Just as important: don't make unreasonable requests. Caregivers do not babysit children, or walk the dog, or mow the lawn or wash walls. Their mission is to provide the best care possible to the elderly person in the home.
Treat caregivers with respect. Caregivers are not slaves or servants and should not be treated as such. Verbal abuse is unacceptable. What's more, caregivers have lives, families and obligations outside of work, too. So if you're going to be late getting home, for example, call the caregiver as soon as possible so they're not in limbo.
If you are considering elder home care, make the difficult decision sooner rather than later. Getting assistance not only benefits the senior, it also provides peace of mind for the entire family.
Serving Wayne and Oakland Counties
Visiting Angels DETROIT, MICHIGAN
11000 W McNichols Rd #217
Detroit, MI 48221
Phone: 313-272-8282
313-272-9401