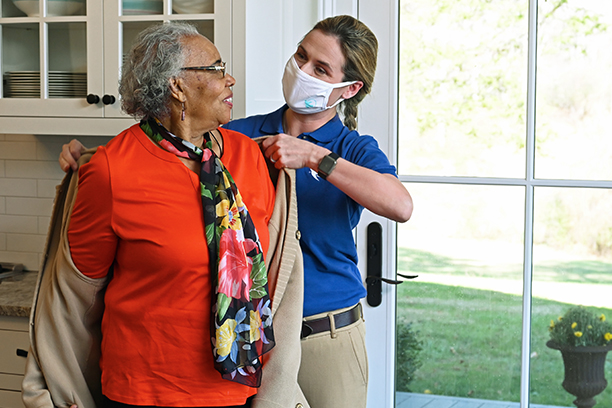 Alzheimers Care in Detroit MI
Supportive Alzheimers Care from Visiting Angels Detroit
When your aging parent or family member receives a new diagnosis of Alzheimers it can be hard to know where to turn for help. Some families try to take on the challenges of caring for a loved one with Alzheimers on their own. While support from family is important for those who suffer, it comes with many challenges. First, it is often difficult for family members when their loved one begins to forget important details, or even fails to recognize their children, grandkids, or other family members. Second, Alzheimers sufferers may struggle with trusting others which makes caregiving a challenge. Finally, as your loved one's disease progresses the level of care needed to keep them safe must also increase. Thankfully, you don't have to face these challenges alone. Alzheimers care from Visiting Angels Detroit can offer the support you need.
Alzheimers Care Provides a Respite for Family Caregivers
Having a professional, such as those from Visiting Angels Detroit, to provide supplemental Alzheimers care for your mom or dad can make life easier for your entire family. Elder care providers offer a needed respite for family caregivers and can give suggestions to make caring for your loved one easier. Visiting Angels has worked with the Alzheimer's Foundation of America to pinpoint the unique struggles of caring for those with memory related illnesses such as Alzheimers. Out of this collaboration a training program was created and is offered to Alzheimers care providers at Visiting Angels Detroit.
Comforting Alzheimers Care
There are certain areas of daily care where seniors with Alzheimers and dementia often struggle. For example, bathing and dressing are frequently stressful tasks for those with memory disorders. Alzheimer's care professionals from Visiting Angels Detroit are skilled at putting their clients at ease. Our caregivers know that providing support in a way which allows your loved one to maintain as much control as possible can make the whole process smoother. Angel companions have a knack for helping their clients feel at ease, even during stressful situations.
When selecting an agency for in home Alzheimer's care in and around Detroit, you want to be sure you select one with flexible scheduling. Visiting Angels Detroit offers care around the clock to make scheduling easy. The importance of individualized plans is particularly highlighted when it comes to Alzheimers care. Because each person's disease progresses at its own rate, it can be hard to guess what care your loved one will need down the road. Likewise, your family member's care needs will likely change throughout the course of their illness. Your Alzheimers care plan from Visiting Angels Detroit can change with you and your needs.
If you have a parent or loved one who has been diagnosed with Alzheimers, contact Visiting Angels Detroit for care today. We can help you create a plan to address your family member's needs.
Serving Wayne and Oakland Counties
Visiting Angels DETROIT, MICHIGAN
11000 W McNichols Rd #217
Detroit, MI 48221
Phone: 313-272-8282
313-272-9401