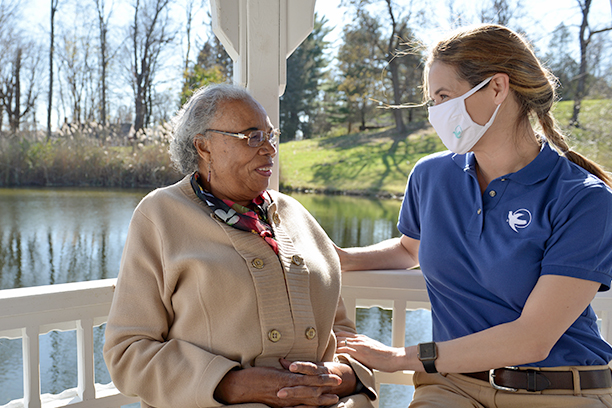 Ways Our Caregivers Help Detroit Seniors
When Detroit families contact us at Visiting Angels Detroit, they come to our caregivers for help with an array of concerns. Our care services are designed to address a wide range of age-related difficulties. We know that age affects everyone differently, and so we've created a program where care is customized to seniors' personal needs. Whether your loved one needs help with physical assistance, memory care, or another form of in-home support, the caregivers at Visiting Angels Detroit will be happy to lend a hand.
If you're thinking of hiring a caregiver for a loved one in the Detroit area, a customized care plan from Visiting Angels Detroit will ensure that your loved one receives the care they deserve.
Physical Assistance for Detroit Seniors
One of the most common problems for seniors is physical decline in old age. Some of the most prevalent problems in seniors include limited mobility, frailty, poor strength, loss of coordination, joint stiffness, joint pain, and lack of flexibility. If your loved one is affected by any of these problems, the caregivers at Visiting Angels Detroit can help. We do so by assisting your loved one around the home and with day-to-day personal activities like grooming, dressing, and bathing.
Lifestyle Care & Non-Medical Health Care
In our golden years, doctors' orders become more important than ever before. But living a healthy lifestyle can be difficult. At Visiting Angels Detroit, our caregivers make healthy living easier, offering help with meal planning, meal preparation, companionship during walks and light exercise, and by offering non-medical care for conditions like diabetes, COPD, Parkinson's, and others.
Memory Care for Detroit Seniors & Families
Physical decline is an inevitable part of aging. But for many, cognitive decline is an even greater concern in old age. Memory difficulties can be as minor as occasional forgetfulness, but also include debilitating conditions such as dementia. Our caregivers provide compassionate at-home memory care for Detroit seniors, offering helpful reminders, essential monitoring, and companionship for seniors affected by cognitive decline.
Caregiver Companionship & Emotional Support
Visiting Angels Detroit helps seniors stave off the effects of senior isolation, a common problem for seniors who have lost loved ones and/or have trouble getting out of the home. Without regular human interaction, seniors are more likely to develop physical, mental, and memory disorders. By providing Detroit seniors with regular one-on-one contact, our caregivers help seniors avoid feelings of isolation.
Select Your Caregiver® with Visiting Angels Detroit
At Visiting Angels Detroit, we know how important the connection between caregiver and client will be to any successful care relationship. Through this program, we select a caregiver that we think will be compatible with your loved one and you can meet with them prior to care to decide if they are the right fit.
Call Visiting Angels Detroit today to get started with a free caregiver consultation.
Serving Wayne and Oakland Counties
Visiting Angels DETROIT, MICHIGAN
11000 W McNichols Rd #217
Detroit, MI 48221
Phone: 313-272-8282
313-272-9401