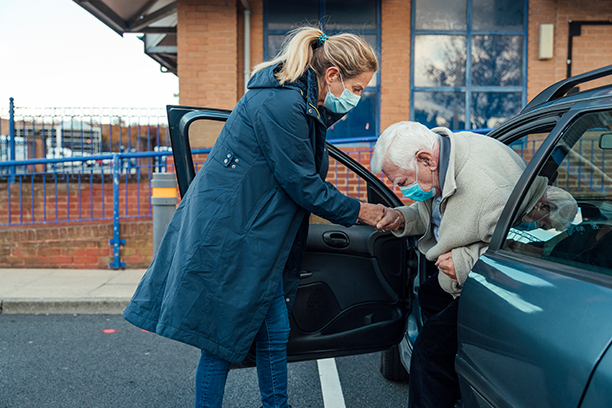 Home Care in Detroit
For 15 years, Visiting Angels® Detroit has provided compassionate home care services for seniors and their families. We offer personalized home care so older adults in Detroit and Oak Park can continue to thrive within their homes and communities.
For seniors and people with disabilities, living at home means retaining their independence and staying connected to their communities. Our trusted caregivers can provide one-to-one support to make this option possible.
About Our Home Care in Detroit
At Visiting Angels Detroit, we believe everyone should be able to live life on their own terms and in the place where they feel most comfortable. Through our comprehensive home care services, we can make daily life simpler, more comfortable, and more enriching for older adults.
If someone you love can no longer manage everyday tasks on their own, we can create a customized care plan to fully address their needs. Our dedicated caregivers can help your elderly loved one with a wide range of tasks, including:
Grocery shopping and other errands
Walking and transferring locations
Bathing and getting dressed
Planning and preparing meals
Engaging companionship
Medication reminders
Family caregiver coverage
Your loved one's care needs don't take time off for weekends or holidays, so neither do we. As part of customizing our home care to each client's needs, we also offer flexible scheduling options. Whether your loved one needs assistance in the middle of the night or for a few hours in the afternoon or around the clock, we can be there. Our caregivers are available 24/7, every day of the year.
So how do we get started? To provide the most beneficial home care for your family, we need to learn more about your unique situations and needs. When you call our office, we'll lead you through the following steps:
Discuss your loved one's current physical and mental condition and needs; go over our care services and scheduling options; and the costs of care
Arrange an in-home care consultation for a more in-depth discussion about your loved one's needs and how we can address them together
Collaborate with your family to build a custom care plan that addresses your loved one's needs and puts everyone at ease
Select a qualified care professional whose skills and personality are the best fit for your family
Personal Care in Detroit
When everyday activities that once were so simple become difficult or dangerous for your senior loved one, we can help with our personal care services. Our caregivers can either take over or assist older adults with the routine tasks they can't manage as easily as before. By relieving these obstacles, we can help your relative feel more comfortable and confident in their own home.
As part of our personal care services, our caregivers can assist your loved one in the following ways:
Supporting them when walking or transferring between locations
Monitoring their diet and preparing healthy meals
Reminding them to take any required medications
Respectfully assisting them with bathing and dressing
Picking up their groceries and running other necessary errands
Companion Care in Detroit
Isolation and loneliness can pose very real risks for older adults. Unfortunately, many seniors start to withdraw from their communities as they grapple with physical or cognitive decline.
At Visiting Angels Detroit, we aim to improve each client's quality of life through emotional care services as well as physical support. Our companion care services includes regular social visits to re-engage your loved one through conversation and their preferred activities.
Our caregivers are a warm and friendly presence who can lift your loved one's spirits — all while assisting with everyday tasks.
Alzheimer's Care and Dementia Care in Detroit
Alzheimer's disease and other forms of dementia can pose many unique challenges for seniors living at home. The symptoms of this cognitive decline — like confusion and short-term memory loss — can be alarming and destabilizing for the whole family. Within our comprehensive home care services, we provide specialized Alzheimer's and dementia care to create a safe and stable environment for seniors.
Stability is essential for older adults at this disorienting time. Our caregivers can provide that stability by:
Checking in on your loved one regularly
Taking them to appointments
Making sure they take their medications
Assisting with meals and other daily tasks
Our caregivers can be there to support and engage your loved one in the moments when you can't be. We can help them adhere to a familiar routine while ensuring that all their physical needs are met.
Respite Care in Detroit
The demands of caregiving can seem endless, with each presenting new challenges. As devoted as you are to your loved one's well-being, you have to make time for yourself as well. Our respite care services can provide the relief you need to tend to the other areas in your life and reduce the risk of caregiver burnout.
Depending on your needs and your loved one's existing support, we can provide one-time or ongoing respite care to cover your caregiving duties. While you rest and recuperate, our caregivers will be there to assist your relative in any way they need.
Fall Prevention Assistance
Falling can be a catastrophic event for seniors. A fall can lead to serious injuries that restrict their ability to take care of themselves without help. At Visiting Angels Detroit, we've developed our Safe and Steady Fall Prevention program to reduce fall risk for older adults.
To promote your loved one's safety and continued independence, we can identify their personal risk, suggest changes to their home, and offer a steadying hand to help them walk or change locations more easily.
Hospital Discharge Support
When your loved one returns home after a hospital stay, they face the greatest risk of readmission within the first month. Through our Ready-Set-Go Home program, we support older adults before and after they leave the hospital. Our caregivers help seniors follow through with their discharge instructions and recuperate safely at home, making readmission to the hospital less likely.
End of Life Care
Our caregivers can be there to promote your loved one's comfort during the end-of-life transition or the late stages of a terminal illness. We offer physical and emotional support services, so you can focus on simply being a family.
Palliative Care
Our palliative care includes physical, social, emotional, and spiritual services for clients with serious illnesses. Through this holistic service, our care professionals strive to promote each client's comfort and bring a new richness to each day.
Get Started with Home Care in Detroit Today
Visiting Angels Detroit is a fully bonded and insured home care provider. Each member of our caregiving team has been hired based on their experiences, their skills, and their commitment to exceptional care. They have also passed a rigorous selection process, including a criminal background check.
At Visiting Angels Detroit, we're here to help. Call us today at (313) 272-8282 to learn more about our home care services in Detroit or to book a complimentary consultation.
Serving Wayne and Oakland Counties
Visiting Angels DETROIT, MICHIGAN
11000 W McNichols Rd #217
Detroit, MI 48221
Phone: 313-272-8282
313-272-9401