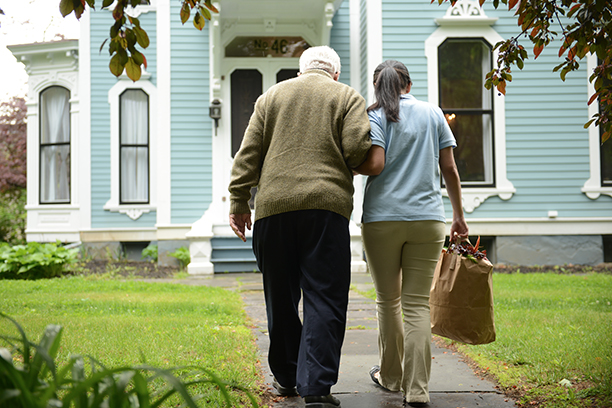 When Is Living Assistance Right for Detroit Seniors?
At Visiting Angels Detroit, one of the questions we're most commonly asked is when living assistance becomes necessary for seniors. While the answer differs from person to person, there are certain guidelines that can help make the question easier to answer.
For Detroit families to decide whether or not living assistance is right for a loved one, it's important that they know the questions to ask, the signs to look for, and the next steps they should take if care is needed. Below, the care specialists at Visiting Angels Detroit have outlined the steps you can take to determine whether or not living assistance is the right move for your spouse, parent, or grandparent.
When Do Seniors Need Living Assistance?
When Detroit families ask us when they should start to seriously consider living assistance, the answer can depend on a number of factors. In some cases, the right time for living assistance is as soon as a loved one wishes that they had a helping hand around the home. But in most cases, we say that families should seriously consider living assistance as soon as a senior can no longer live safely, comfortably, or happily on his or her own.
We also recommend that Detroit families keep aware of the signs that living assistance may be necessary for loved one. These can include:
Inability or difficulty completing everyday tasks
Diagnosis of a serious condition
Signs of depression, unhappiness, or isolation
A recent injury or health event
Declining physical health and well-being
Frailty, loss of strength, or mobility difficulties
Episodes of confusion or forgetfulness
Scheduling Living Assistance Assessments
Even if you've noticed one or more of the above signs in a loved one, you may still be unsure if living assistance is the right choice. If this is the case, you might wish to schedule an in-home assessment from a care specialist. A care specialist can speak with your loved one, evaluate his or her well-being and living conditions, and answer any questions you may have about living assistance. In the event that you wish to proceed with care, a care specialist can coordinate a care schedule for your loved one and coordinate a meeting with a potential caregiver.
Living Assistance with Visiting Angels Detroit
If you have a loved one in the Detroit area who may benefit from living assistance, we invite you to contact Visiting Angels Detroit. We will be happy to provide a detailed assessment in the comfort of your loved one's home and answer any questions you may have about our care programs. Thanks to our Select Your Caregiver® program, you'll also have the opportunity to meet with and have final say on the caregiver who works with your loved one.
Contact Visiting Angels Detroit today for your no-cost living assistance consultation.
Serving Wayne and Oakland Counties
Visiting Angels DETROIT, MICHIGAN
11000 W McNichols Rd #217
Detroit, MI 48221
Phone: 313-272-8282
313-272-9401