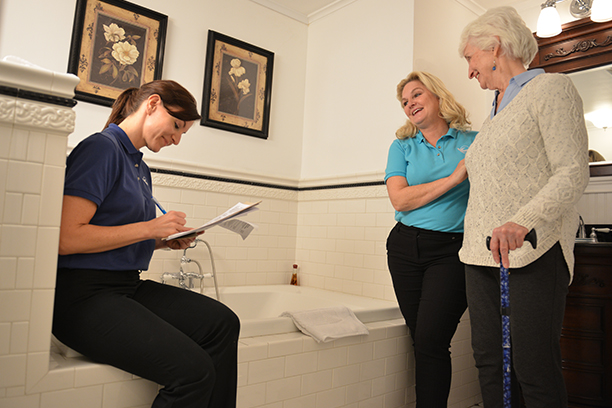 Personal Care Provider in Detroit
It's very common to worry about an older family member living at home alone. You may be concerned about their overall health and safety, but you may also be worried about senior isolation. Loneliness and isolation are unfortunately common for older individuals. A personal care provider from Visiting Angels® Detroit can help your loved one overcome feelings of being alone.
Isolation can be a serious concern for seniors, and can contribute to all kinds of health issues. Our agency understands this risk. Our care team is compassionate, thoughtful, and attentive to the needs of our clients. Here's how we help to fight any loneliness your loved one may be experiencing.
3 Ways We Reduce Loneliness and Isolation For Seniors
At Visiting Angels Detroit, we've been working with seniors throughout the area for 15 years. We know that the emotional challenges of aging—especially isolation—can be just as challenging as the physical obstacles. Here's where a personal care agency can make a difference:
A familiar, friendly face. With our agency, the same dedicated caregiver will always look after your loved one. Our caregivers are matched to clients based on the needs, temperament, and preferences of seniors. It means your loved one isn't dealing with strangers they don't know. Instead, our clients can look forward to a friendly visit from a care professional they trust.
Reducing stress and anxiety. Many seniors struggle with moments of confusion, stress, or anxiety. These can be incredibly isolating, and can make it even more difficult for seniors to leave the home. Our caregivers can help to ease these tough moments. We offer lively conversation and companionship to clients whenever we visit, ensuring they don't feel alone.
Assisting with favorite activities. As time goes on, many older individuals forego favorite activities for various reasons. Maybe they can no longer drive safely or maybe they're nervous about completing these activities on their own. Your loved one's caregiver can help. We can transport clients to social events, accompany them on walks around the neighborhood, or even help with gardening!
Find A Compassionate Personal Care Provider in Detroit
With our agency, your loved one is always looked after by a friendly, empathetic personal care provider. We make it a priority to find the perfect caregiver with our Select Your Caregiver® program. We're proud to support our senior community in:
Detroit
Oak Park
And throughout the surrounding area
With the right personal care provider, your loved one can live with joy and dignity at home. Call Visiting Angels Detroit to get started.
Serving Wayne and Oakland Counties
Visiting Angels DETROIT, MICHIGAN
11000 W McNichols Rd #217
Detroit, MI 48221
Phone: 313-272-8282
313-272-9401